District Schools in Bloom 2020
St Albans City and District Council's Parks and Green Spaces Team are once again running the District Schools in Bloom competition for 2020! This is now in its 7th year, and we are really pleased to be running the competition in partnership with the Herts and Middlesex Wildlife Trust, John O'Conner, Burston Garden Centre and Carpenters Nursery.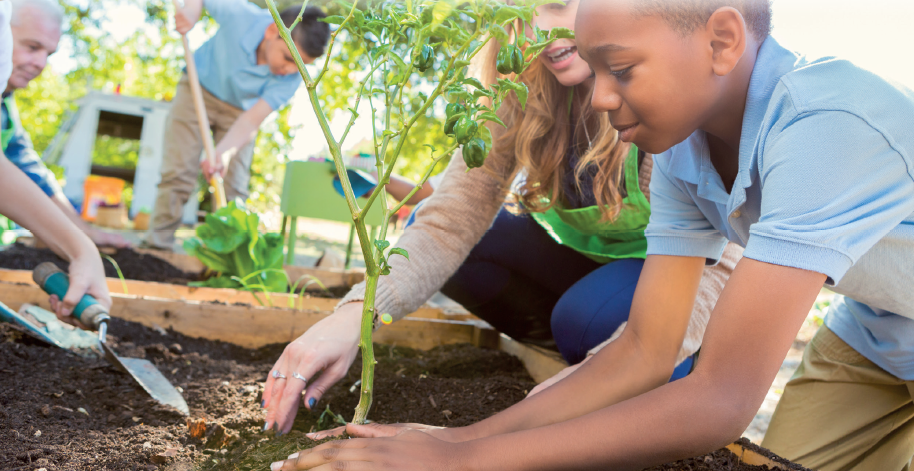 Why take part in District Schools in Bloom 2020?

Toggle accordion
District Schools in Bloom 2020 is aimed at schools within St Albans City and District that are delivering the KS1 and KS2 Curriculum. The competition will complement elements of the Curriculum and will support children with their learning and development.
The competition provides an opportunity for pupils to learn about the principles of gardening and to develop their gardening skills. All the categories in this competition are based on the theme of wildlife gardening. This will help pupils to understand the vital role that gardens play in providing habitats and refuge for nature and wildlife. These wildlife havens are essential, especially in the face of habitat loss and fragmentation in the wider landscape, and also as climate change becomes more evident.
The categories

Toggle accordion
The categories that you can enter this year are below. You can enter as many of these categories as you wish:
Fabulous Flowers: understanding the importance of flowers, and growing the best selection of flowering plants for pollinators and for wildlife. Also includes the optional Super Sunflower Challenge!, to see who can grow the tallest sunflower!
Scrapyard Scarecrow: using reused/recycled rubbish to build a scarecrow(s) based on an environmental theme, which demonstrates a good understanding of a topical environmental issue. The more creative the scarecrow(s) the better!
Vibrant Vegetables: learning about the principles of growing vegetables, demonstrating how this can be done sympathetically with nature and showing how the produce can be used.

Water for Wildlife: creating and maintaining features in a garden that can provide water for a diversity of wildlife, and demonstrating water saving techniques.

Wonderful Wildlife: creating a wide range of habitats within a garden to support a diversity of wildlife, including invertebrate species.
This year, we also have an additional category called Crafting Nature (*NEW*), which can be entered alongside one or more of the above categories, or on its own if you wish. Demonstrate your creative skills through natural art, and be a part of the Hertfordshire Year of Culture 2020!
Entry Form

Toggle accordion
If you wish to enter this year's competition, please click here to download the Entry Form. Please complete and return this to: Lisa Hewitt, Parks and Green Spaces, District Council Offices, St. Peter's Street, St Albans, Herts. AL1 3JE.
Alternatively you can also confirm your entries by emailing: greenspaces@stalbans.gov.uk
Competition and Judging Guidelines

Toggle accordion
For further information on the competition, and guidance on what the judges will be looking for in each category, please download the Competition and Judging Guidelines here.
How you can get involved

Toggle accordion
For further information on wildlife gardening, and ideas for possible activities, please visit the following pages on the Herts and Middlesex Wildlife Trust website:
Grebe House Wildlife Garden
You may wish to visit the Grebe House Wildlife Garden, which is located next to the Herts and Middlesex Wildlife Trust Head Office in Verulamium Park, St Albans. This is an excellent example of a wildlife garden:
Please note that Grebe House Wildlife Garden is open on week days, between 10am and 4pm. If you wish to visit the garden with a school group, please contact the Herts and Middlesex Wildlife Trust beforehand for copies of wildlife spotter sheets and/or a paper copy of the survey for the pupils to complete. Please also note that unfortunately guided tours of the wildlife garden cannot be guaranteed.
Dates for the diary

Toggle accordion
Closing date for entries: Friday 3rd April 2020
Judging will commence: week commencing Monday 29th June 2020
Awards Ceremony: Friday 25th September 2020, 5:30pm to 7pm. This will take place in the Council Chamber at the District Council Offices. All the Winners and Runners-up will be announced, and certificates and prizes will be presented during the evening.

The Winners of District Schools in Bloom 2019

Toggle accordion
The Winners of District Schools in Bloom 2019 were:
Fabulous Flowers: Cunningham Hill Junior School
Marvellous Minibeasts: Wheatfields Infants & Nursery School
Scrapyard Scarecrow: Crabtree Infants School
Vibrant Vegetables: Camp Primary and Nursery School
Wonderful Wildlife: Margaret Wix Primary School
The Super Sunflower Challenge!: Wood End School