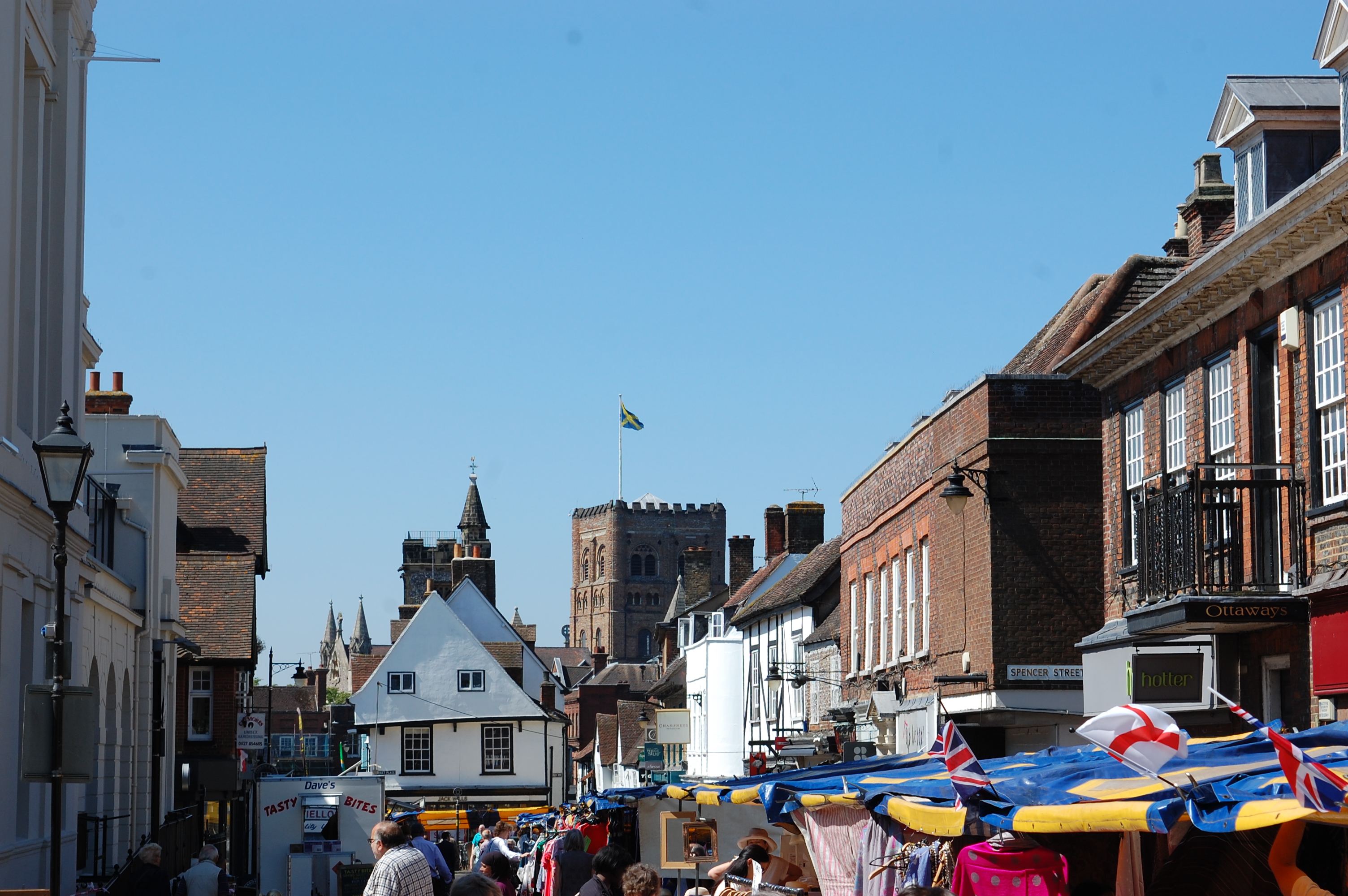 Charter Market – new market layout being trialled to allow more stall holders to trade
St Albans City and District Council has worked with market traders to develop a revised Charter Market layout to allow more traders to operate at the twice-weekly market.
Council officers from the Council's Community Services and Environmental Health teams met with traders on Wednesday (5 August) to discuss new ideas for the market layout.
Traders have been unhappy that they have not been able to operate in their usual numbers because of the additional space needed for social distancing.  With queues for market stalls, shops and cafes competing for space at peak times, plus more pedestrians, a solution is needed that makes the best use of the space available.
Cllr Mandy McNeil, the Council's Portfolio Holder for Business, Tourism and Culture said:  "We will implement the scaled up plan at the market on Saturday and see if we can get that to work.  We think we will be able to get over 60 stalls in if traders all follow the advice of the environmental health team, and use the appropriate PPE.

"All permanent traders have been offered a pitch, though I understand some have declined because of holiday plans.  We think we have around 55 who will be trading on Saturday. Plus we may have some casual traders on High Street as that location seems to be going well and we want to prepare for when everyone is back from holiday.

"We hope residents will continue to support traders and check out all the various nooks and crannies at the market. 

"The Council takes social distancing requirements very seriously and that has to be our top priority but supporting our market traders is also important.  I'm hopeful that working in collaboration with traders to find a better way forward has identified a market layout that will work for St Albans during Covid-19.  Thanks to all the traders involved in shaping the plan."
Councillor contact:  
Mandy McNeil, Portfolio Holder for Business, Tourism and Culture: 07584 198999, cllr.m.mcneil@councillor.stalbans.gov.uk
Contact for the media:
Claire Wainwright, Policy and Communications Manager: 01727 819572, claire.wainwright@stalbans.gov.uk.