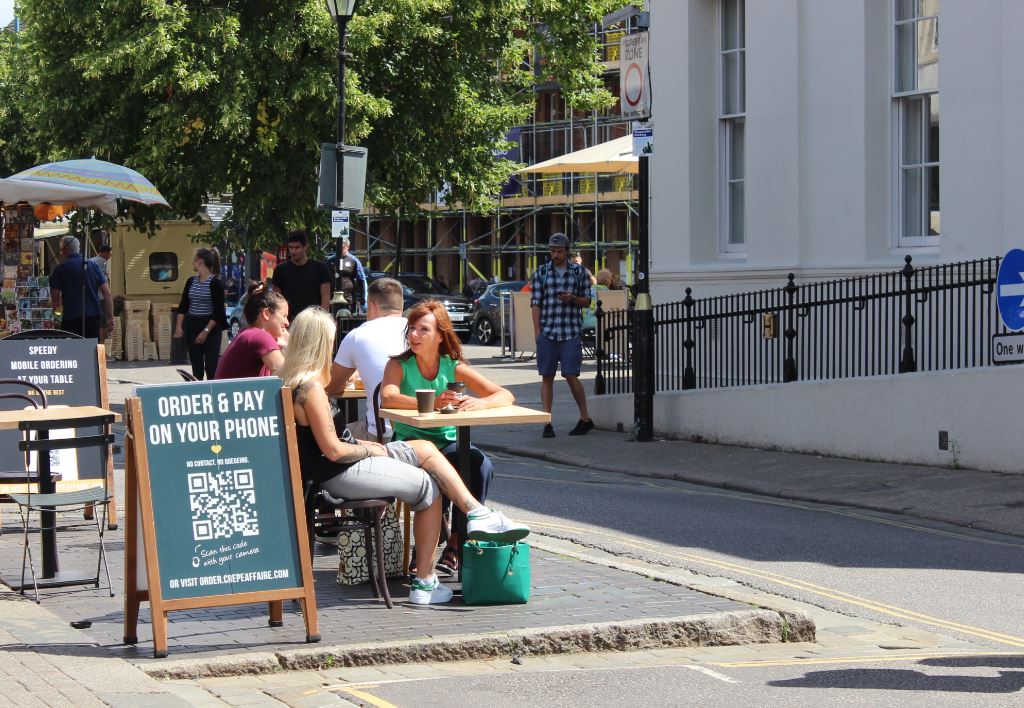 Help for hospitality businesses and market traders
Licenses allowing cafes, pubs and restaurants in St Albans District to make better use of outdoor space are to be fast-tracked to boost trade.
Hospitality businesses are reducing the number of customers they allow inside because of social distancing rules designed to combat Covid-19.
St Albans City and District Council has come to their aid by helping them cope with the resulting loss of vital income as they seek to recover from the lockdown.
They are fast-tracking licence applications that will allow them to put tables and chairs outside on pavements.
Al fresco dining has been made more viable because several City Centre streets, including the High Street and George Street, have been pedestrianised and closed to traffic.
It is hoped the outdoor strategy will not only keep people safer from Covid-19 but will also create a more vibrant atmosphere in St Albans, Harpenden and surrounding villages.
Government legislation introduced earlier this month has streamlined the process for temporary pavement licences at a cost of only £100.
Any business in the District that requires one should contact licensing@stalbans.gov.uk or check the details online at https://www.stalbans.gov.uk/licences-and-permits.
The new rules also allow any premise with an alcohol licence to sell takeaway drinks during their normal hours of business or up to 11pm at the latest.
Councillor Mandy McNeil, Portfolio Holder for Business, Tourism and Culture, said:
Our hospitality industry that provides many local jobs has been among the biggest victims of the economic downturn caused by Covid-19.

We are doing everything we can to help them bounce back and pavement seating offers a valuable opportunity for them to service the same number of customers as normal and maintain their revenues.

Pavement dining and drinking also offers a chance for us to create a really positive vibe in the City Centre and make it an even more fun destination for people.

We are, of course, conscious that tables and chairs should not cause obstructions to pedestrians, including people on wheelchairs and mobile scooters, and our officers will be making sure that doesn't happen.

I'm sure our businesses will make this work in partnership with us because we are all in this fight together against the impact of Covid-19.
In another initiative, the Council is looking to help Charter Market traders who have also been adversely impacted by Covid-19.
The need for social distancing has resulted in a reduction by around half in the number of stalls allowed in St Peter's Street during Wednesday and Saturday markets.
To counter this, the Council has been working on an action plan that will come into effect in the coming weeks.
To boost stall numbers, traders are being allowed to set up on the newly pedestrianised High Street and in the public space near the Alban Arena.
The latter spot will be known as the Charter Market Fringe and is due to be launched on Saturday 1 August. If it proves to be a success, it may become a permanent feature.
No new market traders will be accepted while the Council works to help keep established ones afloat.
The Council is also working with partners, including St Albans BID, to identify other locations around the District where traders can set up community hubs.
Cllr McNeil said:
Our Charter Market is a major City Centre attraction and was recently shortlisted for the title of Best Food Market 2020 in the Great British Food Awards.

We are committed to helping all our wonderful traders to get through the challenges posed by the Covid-19 pandemic and have come up with a number of imaginative solutions.

One of those is the creation of a fringe market in the open spaces leading from St Peter's Street to the Alban Arena. This will allow us to book in more of our regular traders.

Boosting the Charter Market and allowing for more pavement seating at pubs, cafes and restaurants will give our City Centre a lift at this difficult time and help preserve the jobs of many people who work there.

I'm sure our residents will support these initiatives – and take full advantage of them.
Picture: pavement dining in St Albans City Centre.
Councillor contact:  
Mandy McNeil, Portfolio Holder for Business,
Tourism and Culture
Email: cllr.m.mcneil@councillor.stalbans.gov.uk
Tel: 07584-198999.
Contact for the media:
John McJannet, Principal Communications Officer: 01727 819533, john.mcjannet@stalbans.gov.uk.