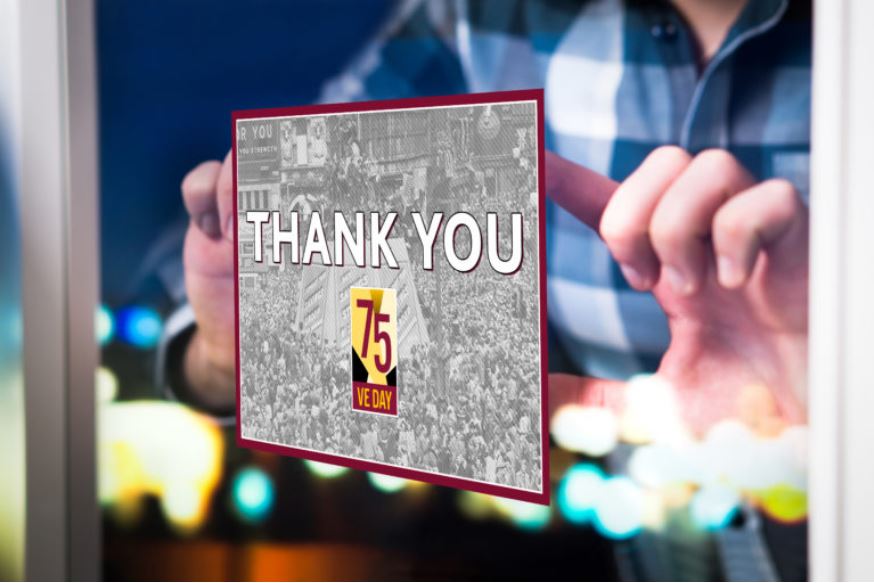 VE Day 75 celebrations in St Albans
Residents in St Albans District are urged to join the Mayor in a special toast to mark the 75th anniversary of VE Day.
Councillor Janet Smith, Mayor of St Albans City and District, will raise a glass as part of a National Toast for the heroes of the Second World War.
With the country in lockdown due to Covid-19, there are no street parties or other large social gatherings to mark the occasion on Friday 8 May.
So, instead the Mayor will perform the 3pm toast at home and has invited everyone in the District to join her at that time.
The gesture is one of a number of activities St Albans City and District Council is encouraging to celebrate the historic day.
A special VE Day 75  page has been created on the Enjoy St Albans website: https://www.enjoystalbans.com/VEDay75.
It includes a link to the Museum + Gallery's website which features information on how VE Day was celebrated locally in 1945.
There are also links to local shops and retailers who can supply vintage clothes and accessories as well as special food treats for collection and delivery.
There is information on community events taking place on the day such as Radio Verulam's Great British Quiz and a wartime singalong hosted by the Community Rail Partnership.
On the Enjoy St Albans Facebook page, residents can contribute photographs that capture the spirit of the occasion with the Mayor awarding prizes to the best image.
The Mayor said:
Marking VE Day's 75th anniversary has been made exceptionally challenging by the Covid-19 emergency with people isolating at home, maintaining social distance and avoiding large gatherings.

 I am hoping, though, that our residents can come together by joining me in the toast at 3pm to commemorate this turning point in our history.

This will be our way of saluting those generations who made so many sacrifices during World War Two and had their lives changed for ever.

We will always be in their debt and should never forget those who lost their lives or suffered terrible injury while protecting the freedoms we enjoy today.

I'm asking for residents throughout our District to stand up and toast those heroes on VE Day 75, thanking them for all they did for us.
Councillor Mandy McNeil, Portfolio Holder for Business, Culture and Tourism, said:
We have posted a wealth of information about VE Day on a special web page and I hope residents take a look at it. It can become a focal point for the District at this historic time.

Many of our businesses are providing help to people who want to stage a small celebration at home by offering special deliveries of food and other treats. I urge people to make use of that.
The web page also has links to Bletchley Park Museum, the Imperial War Museum, and English Heritage for residents seeking to further their knowledge about WW2 and VE Day.
A number of streets and buildings in the District have been named after military personnel killed in action.
The Council is asking families who believe one of their loved ones deserves the honour to put their name forward. They can do so here: https://www.stalbans.gov.uk/street-signs-names-and-numbers.
Contact for the Mayor's office: 
Alison Orde,
the Mayor's Civic Officer 
Tel: 01727 819544 
Email: mayoralty@stalbans.gov.uk
Councillor contact:  
Mandy McNeil, Portfolio Holder for Business,
Culture and Tourism
Email: cllr.m.mcneil@councillor.stalbans.gov.uk
Tel: 07584-198999.
Contact for the media:
John McJannet, 
Principal Communications Officer, 
St Albans City and District Council
Tel: 01727-819533
Email: john.mcjannet@stalbans.gov.uk.