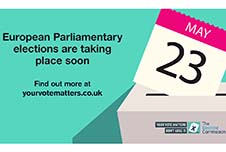 Voting at the EU elections
Voters in St Albans District will go to the polls on Thursday 23 May for elections to the European Parliament.
Slightly more than 105,000 people are registered to vote in the District with 18,681 having arranged to vote by post and 414 having appointed proxies to vote on their behalf.
There are 74 polling stations at 52 locations across the District and they will be open from 7am to 10pm. 
The District is part of the Eastern Region which will return seven MEPs by a party-list system of proportional representation.
Votes made within the District will be counted at the Batchwood Sports Centre, St Albans, on Sunday 26 May with the breakdown announced after 10pm.
This will be made available on the Council's website, bit.ly/2EjaG7S, as well as its Twitter and Facebook pages, @StAlbansCouncil.
However, the overall result for the Region will be calculated and the winning candidates declared at the main counting centre in Chelmsford, Essex. 
Mike Lovelady, the Local Returning Officer, said:
I would like to remind everyone that polling day is almost here. We want to make sure that everyone knows how they can cast their vote and have their say.
  
If anyone has any questions then there is lots of information available on the Council's website or they can contact our electoral services team.   
Information about the elections, including the parties' candidates, is available here: www.stalbans.gov.uk/council-and-democracy/elections/EU2019/.
The Council's Electoral Services team can be contacted on 01727 819294 or email elections@stalbans.gov.uk. 
    
Here is some essential information about the elections: 
You can only vote at the polling station stated on your poll card.  That will have been sent to the address for which you are registered; 
If you are in a queue at your polling station at 10pm you will still be able to vote; 
If you have not posted a postal vote before polling day, you can take it to any polling station in the District and hand it in; 
If you are suddenly unable to vote in person, then you may be entitled to appoint an emergency proxy. You can apply for this up until 5pm on polling day by contacting the Council's electoral services team; 
You are advised to take your poll card with you to vote. If you do not have it, you will still be able to vote. You will need to tell the polling station staff your name and your address and they will check you are on the electoral register; 
If you have a disability, you can ask the polling station staff for help to mark the ballot paper. Someone else, such as a relative or support worker, is also entitled to help; 
If you have a visual impairment, you can ask for a large print ballot paper; 
If you make a mistake on your ballot paper, you can return it to polling station staff who will issue you with a replacement paper. This is provided you have not put your original in the ballot box. 
Contact for the media: 
John McJannet,
Principal Communications Officer,
St Albans City District Council 
Tel: 01727 296130 
E-mail: john.mcjannet@stalbans.gov.uk
---
Note:
To be eligible to vote at the EU elections in the UK you must be registered and 18 years of age or over on polling day; a British citizen, qualifying Commonwealth citizen, or citizen of the EU; resident in the UK; a UK citizen living abroad who has been registered to vote in the UK in the last 15 years; and not subject to any legal incapacity to vote.