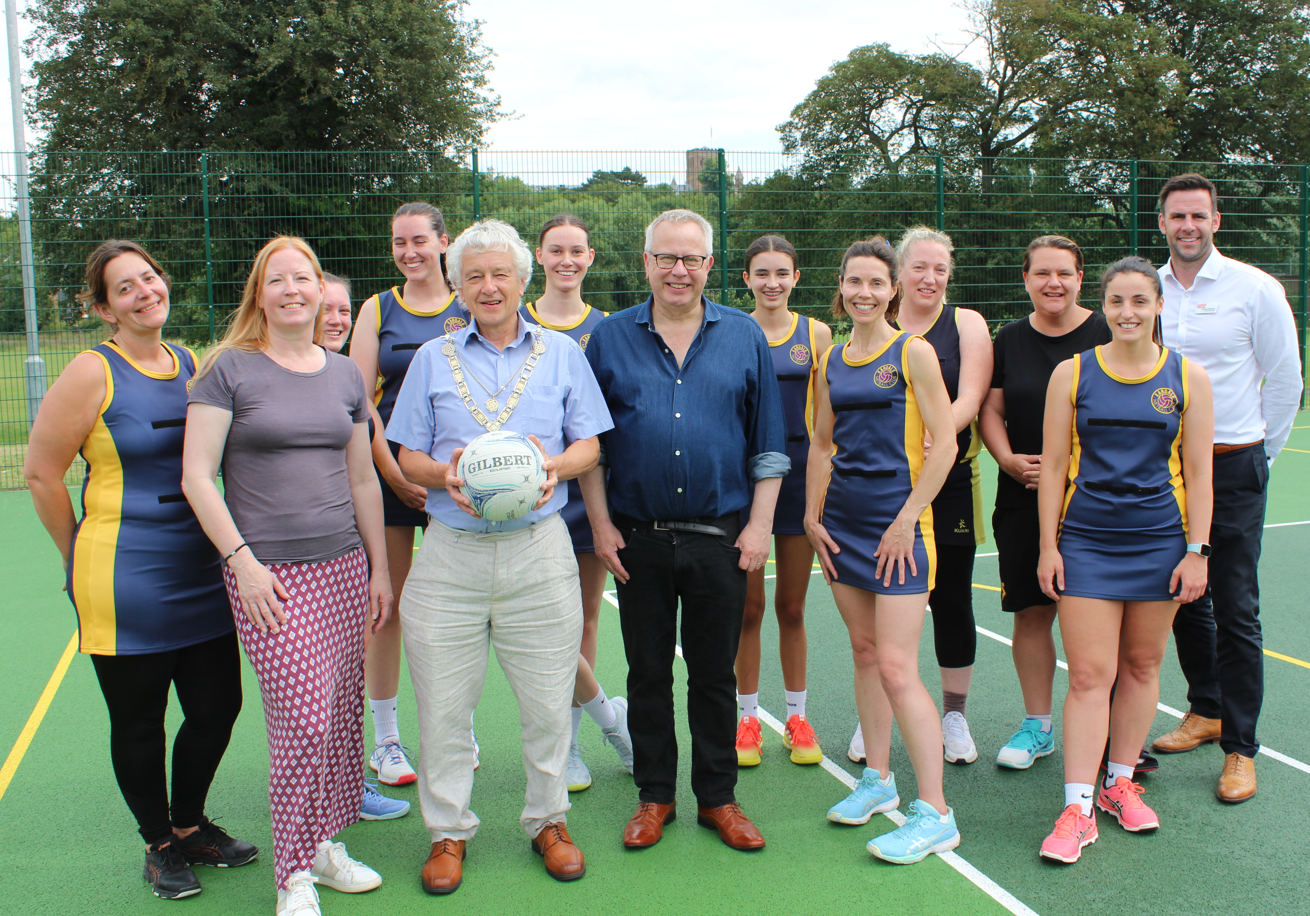 All-weather tennis and netball courts in Verulamium Park are officially opened
St Albans Mayor Anthony Rowlands has officially opened two new all-weather netball and tennis courts at Verulamium Park.
Councillor Rowlands cut the ribbon to declare the courts open at a special ceremony on Saturday 8 July.
St Albans City and District Council has provided the facility, sited next to the Abbey View Athletics Track, as owners of the park.
The courts are managed by the leisure contractor Everyone Active which also runs the nearby Westminster Lodge Leisure Centre on the Council's behalf.
There are two courts marked out for tennis and netball with the playing area secured by a 12 foot tall fence.
The courts replaced a similar but much lower grade facility that had reached the end of its life some years ago and is now the location of a children's play area.
The courts – which are floodlit – can be booked by individuals as well as community sports clubs and have been in use for several months.
Cllr Rowlands, Mayor of St Albans City and District, was joined at the opening ceremony by Cllr Chris White, the Council Leader, Cllr Helen Campbell, Chair of the Public Realm Committee, James McNulty, Everyone Active's Contracts Manager, and members of the Kardale Netball Club.
The Mayor said:
I'm delighted to have presided over the official opening of these first-class outdoor courts.

The theme of my civic year is All Ages Together and these courts are a great example of the community facilities that I am keen to promote.

They are there for residents of all ages and abilities to use and I am delighted to hear that the number of bookings has been building up steadily. It is also great to see netball back in Verulamium Park after an absence of a few years.

I would urge people to take a look and make use of the courts which are in an accessible and central location, just a few minutes' walk from the City Centre.
Everyone Active's James McNulty said:
We are thrilled to be able to offer our local community these exciting new all-weather netball and tennis courts.

It is very easy to go online, book a time slot with some friends and then enjoy some healthy exercise and some sport.
You can book the netball and tennis courts here.
Pictures: top, the Mayor, 2nd from left front row,  flanked by Cllr Helen Campbell, and Cllr Chris White with James McNulty, far right, and members of the Kardale Netball Club; middle, from the left, Cllr Campbell, the Mayor, Cllr White, and James McNulty; bottom, the Mayor cuts the ribbon to open the courts.