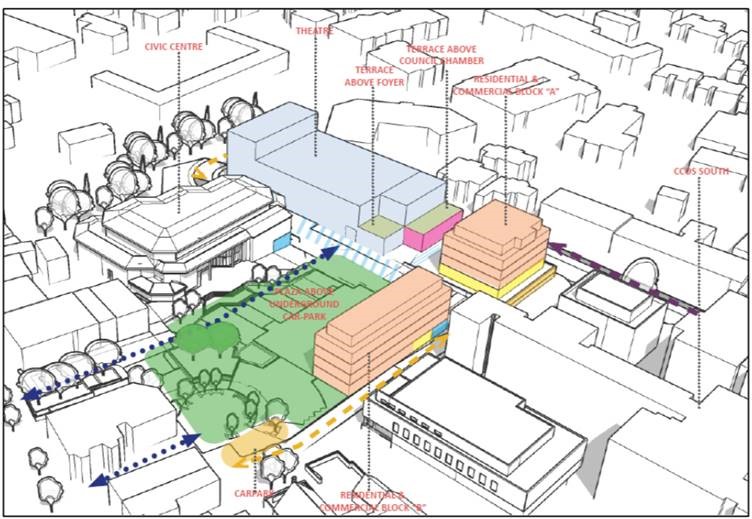 Ambitious move to replace Alban Arena with new culture venue unveiled
Plans are to be drawn up to demolish the ageing Alban Arena in St Albans and replace it with a new entertainment venue as well as create a new park.
Two new buildings with much-needed new housing and commercial space would also be provided under the ambitious proposals.
The Rose Garden, a quiet but under-used haven near the City's Civic Centre, would be revitalised.
A new theatre to replace the Arena would be built on the site of the Civic Centre car park while the central plaza would become a green space to boost the environment. An underground car park with 150 spaces would be built underneath.
St Albans City and District Council's chamber – where its main meetings are held – may possibly be moved to a new home on the site within a community hub.
The Council has recently been redeveloping a large site of mainly run-down buildings close to its main offices.
Construction work is well underway to complete two new business and housing blocks on land that once contained a police station and an NHS clinic. This is known as the City Centre Opportunity Site (CCOS) South.
Now the Council is working on plans to overhaul the adjacent area, known as CCOS North, that includes the Arena, the area outside the Civic Centre and the three-storey Civic Centre car park.
The Council's Regeneration and Business (R&B) Committee, at a meeting on Wednesday 23 November, agreed to progress a vision for this site together with a design created by a stakeholders' group which has been working on the project since the summer.
Its plans are at the feasibility stage and the Committee agreed more work will be undertaken to assess the impact on the environment of demolishing the Arena, including the carbon emissions involved.
The Committee also agreed to initiate a design competition, to be run with the Royal Institute of British Architecture, to find the best concept designs for the CCOS North development.
These designs will then be displayed at public exhibitions around the District and residents will be able to vote for their favourite. This is the same process undertaken for CCOS South.
The winning design will be reported to the R&B Committee along with a business case setting out the expected income and expenditure, the capital development budget and borrowing required.
Councillor Quote
Councillor Robert Donald, the Committee's Chair, said:
Building work on CCOS South is on course for completion by the end of next year. This project will not only deliver an exciting new architectural development on this part of the site but will also provide greater connectivity with the Maltings shopping area and a welcoming green access via the redesigned Quaker gardens.

In addition, there will be 33 homes for social rent run by Watford Community Trust and 60 private market rent flats as well as more flexible commercial and office space.

I'm delighted that we are now moving forward with the ambitious redevelopment of the other CCOS sites that will further regenerate our City Centre for the 21st century.

We have been advised that in the post-pandemic future shopping will not be the number one reason visitors come to our City Centre and we will need to promote St. Albans through some new unique selling points other than retailing. We have recommended two.

Firstly, the creation of a new City park. Lockdowns during the pandemic have illustrated how much people have valued the natural environment on their doorstep for their mental wellbeing. We want to green our City Centre and allow people to reconnect permanently with nature in the heart of the City providing them with a space that is both environmentally sustainable and personally sustaining.

Secondly, we want to revitalise our cultural facilities to offer a wider range of performing arts, music, theatre and art indoors and outside with new facilities for young and old alike that is not currently available.

The Alban Arena has served the District well since the late 1960s but it has been evident for some years that it is in need of a major refurbishment if not a rebuild. It cannot, for example, stage some major touring productions as it does not have modern back-stage facilities and is not fit for purpose in terms of the number of seats or flexibility it can provide.

The stakeholder consultative group, including representatives of local businesses and community organisations, has considered various options to create this new cultural offer. They have recommended that the best way forward is to create a completely new theatre in a different position on the site rather than refurbish the existing theatre which will cost a lot and still not provide what is really needed.

Demolishing the Arena also has the advantage of creating a much larger-sized space where we can create a city park, a new green environment and a plaza with a small underground car park hidden below ground. The existing Rose Garden will also be integrated into the greening project and be turned into a covered eco educational hub accessible and used daily.

These are exciting plans and I'm pleased that we can now develop the process for a competition that will allow architects to put forward outline designs to turn the vision into reality.

We will be consulting with residents about the proposed moving of the Arena given this is a major change to the City Centre's architectural environment and we will carry out research to ensure local people and businesses support our vision.
Councillor contact: Councillor Robert Donald, Chair of the Regeneration and Business Committee and its Charter Market Task and Finish Group: cllr.r.donald@stalbans.gov.uk, 01727 841647.
Contact for the media: John McJannet, Principal Communications Officer: 01727 296130, john.mcjannet@stalbans.gov.uk.