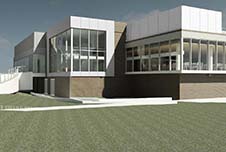 April start for Harpenden leisure development
Building work on the new £18.8 million sport and cultural centres in Harpenden is to start next month.
St Albans City and District Council is creating the state-of-the-art facilities and has appointed Willmott Dixon Construction as the main contractor.
Planning permission was granted last year to extend the swimming pool building in Rothamsted Park and transform it into a multi-sports leisure centre.
The existing sports centre, situated close to the pool, will be converted into a cultural centre with a 511-seat theatre capable of staging major touring productions.
Harpenden Public Halls, the town's main entertainment venue, will close in early 2021 and the site developed to help fund the new centres.
The construction programme is being accelerated to reduce the overall time before people are able to use the new facilities and to keep costs down.
Willmot Dixon will begin their external enabling works mid-April and the main and learner pools will be closed from Monday 29 April for four weeks. 
The main pool will reopen on Monday 27 May and remain so until May 2020.  The learner pool will remain closed throughout the rest of the construction period.
During the four week closure, the swim school programme will be suspended and all other swimmers will be able to use Westminster Lodge Leisure Centre in St Albans.
The early closure is required to allow the contractor to seal off the section of the building between the existing learner pool and the main pool and changing facilities.
A temporary entrance will then be constructed on the main pool side of the wall.  This will enable the main pool to remain operational while the new build extension is constructed.  
The pool building is being extended to create an improved main pool, a new 17-metre-long learner pool, a sports hall, exercise studios and a larger gym. There will also be new changing rooms, a steam room and sauna, a café and reception area.
Next year, the pool is scheduled to be closed for refurbishment from May until the redevelopment is due to be completed in December 2020.
It is hoped work on the new cultural centre will start in November this year and finish in December 2020.  This has been brought forward to accelerate the overall building programme.
Time saving will be made possible by using a temporary gym facility (subject to planning approval) adjacent to the existing sports centre.  This facility will provide a large gym, two exercise studios, a crèche, associated changing facilities and a reception. Users of the badminton courts will be directed to the Batchwood sports centre in St Albans while construction is taking place.
As well as the theatre, to be named after comedian Eric Morecambe, there will also be two function rooms, an exhibition space, bars on two floors and a café overlooking the park. The centre will also be a new home for the Harpenden and District Local History Society's museum.
Harpenden Public Halls is currently scheduled to be closed shortly after the last pantomime performance of the 2020/21 festive season. All activities will then be relocated to the new cultural centre.
An update on progress with the leisure and cultural centres is due to be given to a meeting of the Council's Cabinet on Thursday 21 March.
Councillor Julian Daly, Portfolio Holder for Commercial and Development, said:
This is a complex and challenging project, and I'm delighted that we are now moving onto the build phase.

We have consulted with the public throughout and taken on board their views during public workshops when groups and interested individuals helped shape our plans.

I'm very confident that the people of Harpenden will be pleased with the outcome, which will be high-quality sports and arts centres.  It will become a focal point for the community.
Councillor Annie Brewster, Portfolio Holder for Sport and Culture, said:
We have delivered three new leisure centres in the District over the last six years which is quite an achievement.

We are delighted to be building a fourth to cater for Harpenden and the villages in the north of the District.

In this case, we are not only creating a fantastic new sports centre with a wide range of facilities, but we are also creating a new arts and cultural centre.

Harpenden Public Halls has served the town well for many decades, but it was beginning to show signs of age. The new cultural centre, which will include an amazing theatre named after Harpenden legend Eric Morecambe, will be a great improvement.
Councillor contact:
Cllr Julian Daly,
Commercial and Development Portfolio Holder
Tel: 07775 657200
Email: cllr.j.daly@stalbans.gov.uk.
Cllr Annie Brewster,
Sports and Culture Portfolio Holder
Tel: 01438 832255, 
Email: cllr.a.brewster@stalbans.gov.uk.
Contact for the media: 
John McJannet,
Principal Communications Officer
Tel: 01727 296130
Email: john.mcjannet@stalbans.gov.uk.