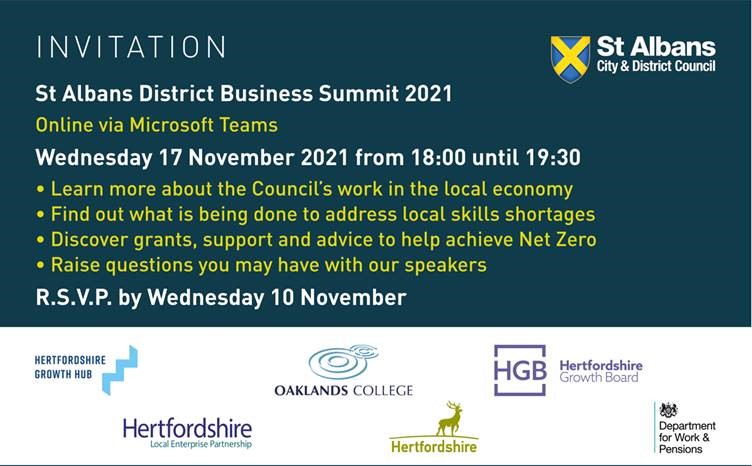 Businesses in St Albans District invited to attend a summit
Businesses in St Albans District are invited to a summit about the major issues and opportunities affecting the local economy.
The online meeting is being organised by St Albans City and District Council with the support of a number of partner organisations on Wednesday 17 November.
Councillor Mandy McNeil, Vice-Chair of the Council's Business and Regeneration Committee, will lead the summit and will be joined by Cllr Robert Donald, the Committee's Chair.
Cllr McNeil, who has responsibility for business, tourism and culture, will talk on what the Council has been doing to support business during the pandemic.
This includes setting up the St Albans District Employment and Skills Partnership as well as promoting the Government's Kickstart scheme to create jobs locally for young people.
Cllr Donald will speak about the Council's regeneration projects that should increase City Centre visitor numbers and reboot the local economy.
Norman Jennings of Hertfordshire LEP (Local Enterprise Partnership) and David Alder of Oaklands College will outline what is being done to reduce skill shortages.
Mathew Partridge of Hertfordshire Growth Board and Liza Armstrong of Hertfordshire Growth Hub will provide an update on sustainability, green grants and the help that is available to reduce carbon emissions.
Time will be set aside after each session for a question and answer discussion with the speakers.
Cllr McNeil said:
This is the third St Albans District Business Summit. I initiated the first in 2019 and it was so successful that it has now become an annual event.

Last year's summit centred on the support available to businesses as they battled to survive the many challenges posed by the COVID-19 pandemic.

This year will focus more on how the local economy can bounce back from that shock and achieve substantial growth.

We will also be dealing with the vital issue of the leading role businesses can play in tackling the climate emergency and how they can set an example by reducing harmful emissions.

As Lead Councillors for Business and Regeneration, we will very much be in listening mode and hope to hear from businesses about the operational issues they are facing and their major concerns for the year ahead.

I urge anyone involved with the running of a local business to register for the summit and take full advantage of the information briefings that are on offer as will as the networking opportunities.
Any business that would like to be represented at the summit, held on Microsoft Teams from 6pm to 7.30pm, should reserve their place here: https://www.stalbans.gov.uk/business-summit-registration.
Councillor contact: Mandy McNeil, Vice-Chair of the Business and Regeneration Committee: cllr.m.mcneil@councillor.stalbans.gov.uk; 07854-198999.
Media contact: John McJannet, Principal Communications Officer: 01727 819533, john.mcjannet@stalbans.gov.uk.