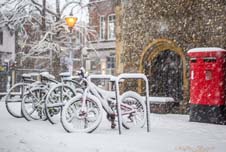 Shoppers and other visitors to St Albans are urged to make use of all the City Centre car parks over the hectic Christmas period.
Thousands of people are expected to come to the City over the festive season to sample its shops, restaurants and bars.
There is also the attraction of a continental-style Christmas Market as well as the traditional Charter Market.
The latter is normally held on Wednesdays and Saturdays, but will run every day at the height of the festive season from Saturday 16 December right through to Christmas Eve.
There are more than 4,500 spaces available at 18 City Centre car parks, some privately owned and others owned by St Albans City and District Council.
Full details, including the locations and charges, are available on the Council's website here: https://www.stalbans.gov.uk/parking-roads-and-transport
The list includes car parks with the 770 spaces at the Maltings Shopping precinct, 180 spaces at Christopher Place and 537 spaces at Russell Avenue.
Among the options are the three car parks close to St Albans City rail station, just a few minutes' walk away from the main shopping areas.
These car parks are on Station Way, Ridgmont Road and Charrington Place, a multi-storey with 815 spaces.
They tend to be busy with commuter parking from early in the morning during the week, but are quieter at weekends. 
Councillor Beric Read, the Council's Portfolio Holder for Business and the Community, said: "Many people will come here for a day out by car and we want them to be aware of the full range of parking facilities on offer.
"People should make themselves familiar with the location of the main car parks which are all listed on our website. 
"In particular, I would draw their attention to the car parks near the rail station. These are ideal for parking and walking, especially at peak times on Saturday when the City Centre is at its busiest."
Picture: Snow scene by St Albans Clock Tower by Ricky Barnett Photography.
Councillor contact:
Councillor Beric Read, Portfolio Holder for Business and the Community for St Albans City and District Council.
Tel: 07956 220264; email: Cllr.B.Read@stalbans.gov.uk  
Contact for the media: 
John McJannet, Principal Communications Officer, St Albans City & District Council 
Tel: 01727 296130; e-mail: john.mcjannet@stalbans.gov.uk