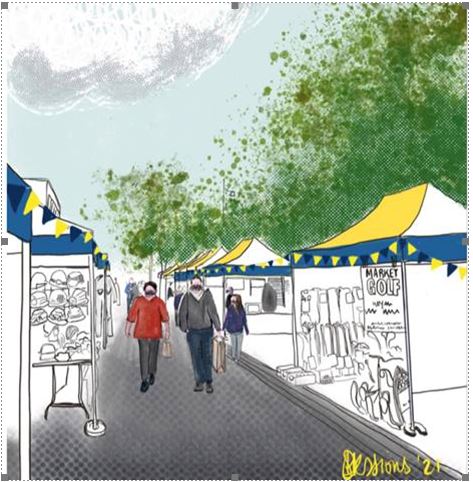 Charter Market pilot scheme delayed
A pilot scheme for a gazebo-only Charter Market in St Albans which was planned for late June has been postponed following the Government's extension of COVID social distancing restrictions.
St Albans City and District Council runs the historic market which has been in operation for hundreds of years.
During the pandemic, many markets around the country shut down. In St Albans, the Council has been able to continue to run a bi-weekly market.  This was made possible by allowing traders who wished to continue to trade over the pandemic to do so by using their own gazebos. 
The Council has made grants of up to £8,000 to eligible traders who applied, to offset their continuing property costs, using funds provided by the government.
The pilot scheme feasibility study will now be held later this year and will involve around 20 gazebos on St Peters Street.
The pilot scheme gazebos will be put up by a contractor, who will also dismantle and store the gazebos at the end of the working day. 
Before the pilot, two gazebo designs – one, the public and trader favourite in a survey undertaken earlier this year, and one in traditional blue and yellow colours – will be set up on St Peters Street. The most popular design among traders, residents, businesses and Councillors will then be used in the pilot.
Feedback will be obtained from traders, shoppers and local businesses, and officers will be monitoring performance of the gazebos in different weather conditions before a final report and recommendation is made to the Council's Regulatory and Business Committee later this year. 
Mandy McNeil, Vice-Chair of the Committee and Lead Councillor for various business activities including markets, said:
We targeted late June for the pilot scheme as we had to have a COVID lay out until the Government removed the social distancing measures.

These plans have now had to be put back following the Govenrment decision to continue with COVID restrictions for the time being.

With the support of market traders, we kept the market open throughout the pandemic using gazebos and we have had a lot of feedback on this new style of operating, much of it positive.  With traders putting up and taking down their own gazebos, the risk of COVID contamination and spread was reduced.

The grant of up to £8,000, to help with continuing property costs during the pandemic, meant that to those traders who applied for it had funds to help with things like pitch fees, purchase or rental of a gazebo and assistance to hire a third party to transport, erect, take down and store their gazebos.  

St Albans is one of many heritage cities around the country considering a permanent gazebo market operation, and many markets around the country currently operate successful gazebo markets, including other historic charter markets.  The Council has operated a twice-weekly trader built gazebo operation for many years as part of our Charter Market streetfood offering, which draws footfall from near and far. 

COVID continues to put pressure on the Council finances and we are exploring how best to fund the purchase of gazebos as part of the business plan process. The financial position of the market has improved, and we are seeking further cost reductions including reviewing our very high business rates and whether those are justified.

Maintaining a vibrant Charter Market and City during the pandemic has helped us bring much needed visitor footfall in. In April, St Albans footfall was up 41% versus the national average of 27%, and in May footfall increased by another 9% versus an national average of 6.3%.  

When it gets underway, the pilot scheme will be a good way of testing layouts and gauging the opinions of traders, businesses and residents on the best way forward.
Pictures: the Charter Market as it has developed.
Footfall Data – Place Infometrics – St Albans BID
Councillor contact:  
Mandy McNeil, Deputy Chair of the Regeneration and Business Committee and Lead Councillor for various business related matters including markets. , 0758198999, cllr.m.mcneil@councillor.stalbans.gov.uk