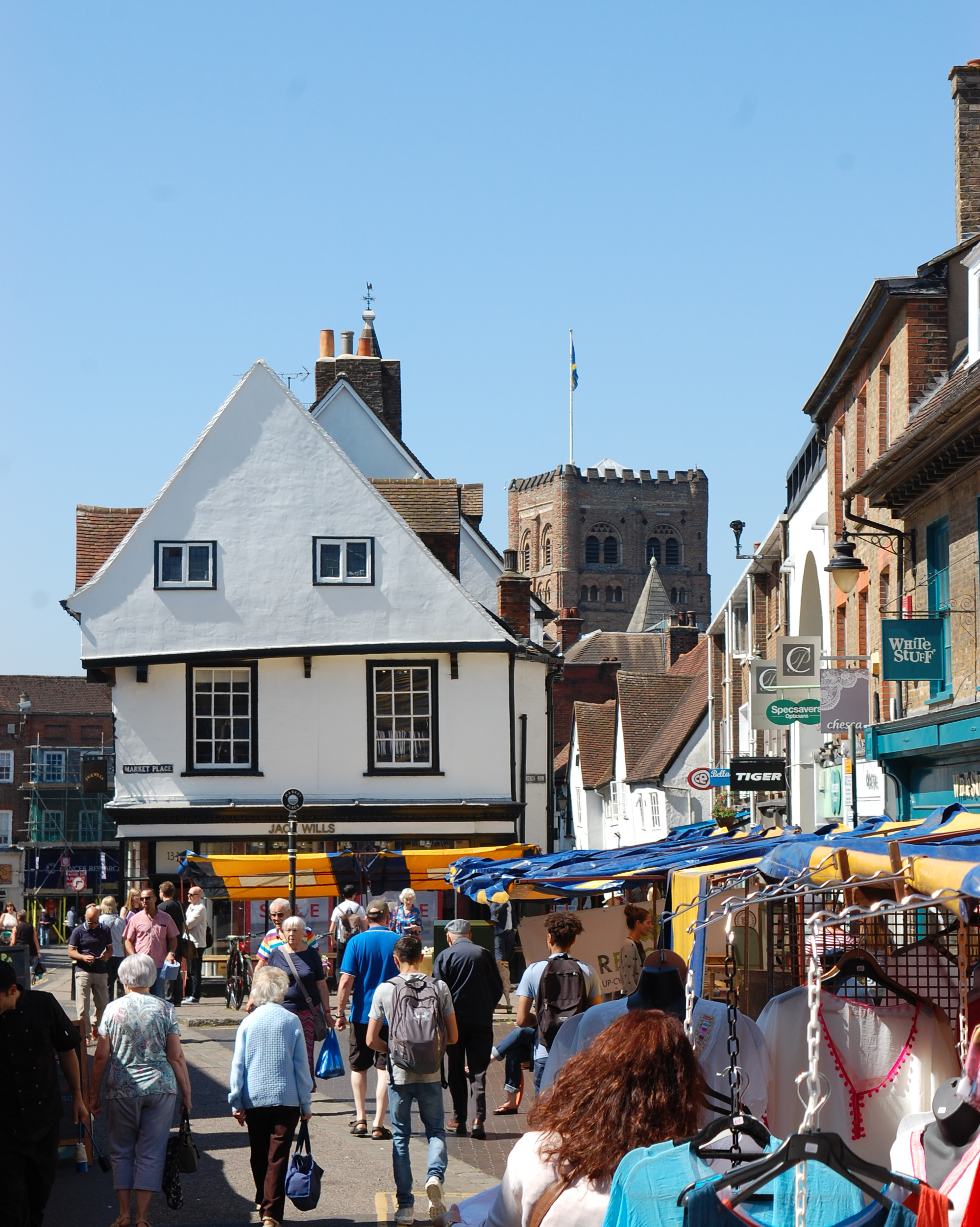 Charter Market – safe and equitable is our objective
St Albans City and District Council has defended its stance on reopening St Albans Charter Market in a safe and socially distanced way.  
The market, which has been in existence for over 1,000 years, is a vibrant part of the District's local economy.
During the Covid19 lockdown, a very scaled back market, with a handful of stalls offering produce, was permitted by government regulations.
Since Super Saturday and the opening up of the economy earlier in July, the Council has been reintroducing additional stalls focussing on those traders who can demonstrate that they are able to trade safely and in line with government advice.
The market is licensed to operate in a particular area of the city centre around St Peter's Street and Market Place, limiting the number of stalls and market footprint.  
With the safety of the public a top priority, the pandemic has meant that the Council has been forced to make changes to the way the market operates.
With space for only around 40 traders in the permitted footprint of the market, taking account of significantly increased footfall and social distancing requirements, and with more than double that number of traders all understandably wanting to trade, not everyone is happy.  
In late June other roads were closed for emergency social distancing measures. The Council has negotiated with the landowners for permission to extend the footprint of the market from Saturday 1 August. This will allow it to spread out further, and combined with additional space near the Alban Arena, will allow all stall holders on the rota an opportunity to trade, though not every week.  Many stall holders operate at other markets in addition to St Albans, so the Council feels this is a workable interim solution, though by no means ideal.  
The Council recognises that there may be other solutions and is currently working with market traders on alternative layout ideas.  It wants to work collaboratively with traders, and other stakeholders, to find the right solution.  
The Council needs to balance the needs of traders with those of retail and hospitality businesses, and residents.   Many businesses can only operate safely at 20% capacity or less and need the new pavement licence arrangements put in place by the government, so that they can continue to trade, despite the limitations necessary because of the pandemic. 
More residents are enjoying the newly pedestrianised city centre for cycling and walking. And people with visual impairments are suffering because of the changing layout of the city centre. The Council needs to ensure they too have the access they need. These things put additional pressure on the space available for the Charter Market.  
Also, residents have their own views on what the market mix should be now and in the future.  
Cllr Mandy McNeil, Portfolio Holder for Business, Tourism and Culture at St Albans City and District Councillors said:  "With multiple stakeholders, differing needs, government safety regulations and a pandemic to deal with, running the market is by no means straight forward at the moment. 

"The Council's job is to balance the differing needs of everyone and ensure people remain safe in what is a very worrying and continuing state of emergency. The Council continues to receive emails from residents who are terrified to come into town on a busy market day.

"The pandemic has meant we have had no choice but to operate at a very reduced capacity before and since Super Saturday.  We are trying to maximise the number of stalls while maintaining social distancing.  Our much-loved market is very popular, especially on sunny Saturdays, bringing thousands of staycationers into the city centre. We would be cheering at this type of footfall in normal circumstances, but unfortunately COVID19 has not gone away.  

"There are key questions we are grappling with. For example, with limited space, available what's the best way to decide which of the regular traders should trade this week, and who should be turned away. Do we prioritise local traders versus those who operate at other markets? What do we do if traders don't turn up in bad weather?  How do we ensure we have the right mix of stalls so residents can find what they want when they come to shop, while being fair to traders? What about local residents who have lost their jobs and would like the opportunity to start up a business as a new trader? 

"We are conscious that there may be other solutions that we should consider. We announced last Friday that following successful landowner negotiations, this Saturday, August 1st we will be trialling an increase to the market footprint, using High Street and the area around the Alban Arena.  We hope to be able to build up from there, in a safe and managed way.  I'd like to see our food and drink stalls, which have been core to the market during the COVID19 lockdown, on a more frequent rotation, although they may need to feature in different locations.

"I asked traders to propose alternative layouts that balance their needs with those of other stakeholders, while still ensuring social distancing.  Council officers are working through one proposal received, and we are arranging an online meeting with traders later this week to talk through this and other potential solutions.  

"It's not just traders we have to consider.  The government has now relaxed guidelines so that shops, cafes and pubs can be licensed to put tables and chairs outside – which is critical to their survival.  But on market days they can't do that because space is limited.   I'm also concerned about the needs of people with disabilities.  One visually impaired resident has told me that it is impossible for her to safely access shops and so she avoids coming to town on busy market days. That seems unfair.

"The Council and the BID* continue to support market traders online, as they have done since the beginning of the Covid19 crisis, through the enjoy st albans website**website so that residents can purchase directly from them and benefit from delivery to their door.  This has helped some traders diversify their trading platform and secure additional income.  The Council is also working with partners to secure other trading opportunities on non-Charter Market days. 

"I've been speaking with a number of traders who want to support each other and our local shops too.  For example, our city centre businesses have been funding extra marketing and promotions of our market and market trader offerings. Working together to build a safe environment will help restore consumer confidence, which is a win for everyone."
Amanda Foley, the Council's Chief Executive, said: "We love our market and want to see it thrive.  We all know that these are not normal times.  Luton, just up the road, is having to take special measures because of the spike in cases there.  We don't want to face such a situation in St Albans if we can avoid it.  The Council needs to ensure we run our market in a safe and equitable way, balancing the needs of all the various stakeholders as best we can.  That's got to be our top priority."
Councillor contact:  
Mandy McNeil, Portfolio Holder for Business, Tourism and Culture
Email: cllr.m.mcneil@councillor.stalbans.gov.uk
Tel: 07584-198999.
Contact for the media:
Claire Wainwright, Policy and Communications Manager: 01727 819572, claire.wainwright@stalbans.gov.uk. 
Notes for editors
*BID – Business Improvement District  - https://www.stalbansbid.com/
** https://www.enjoystalbans.com/offer/charter-market/