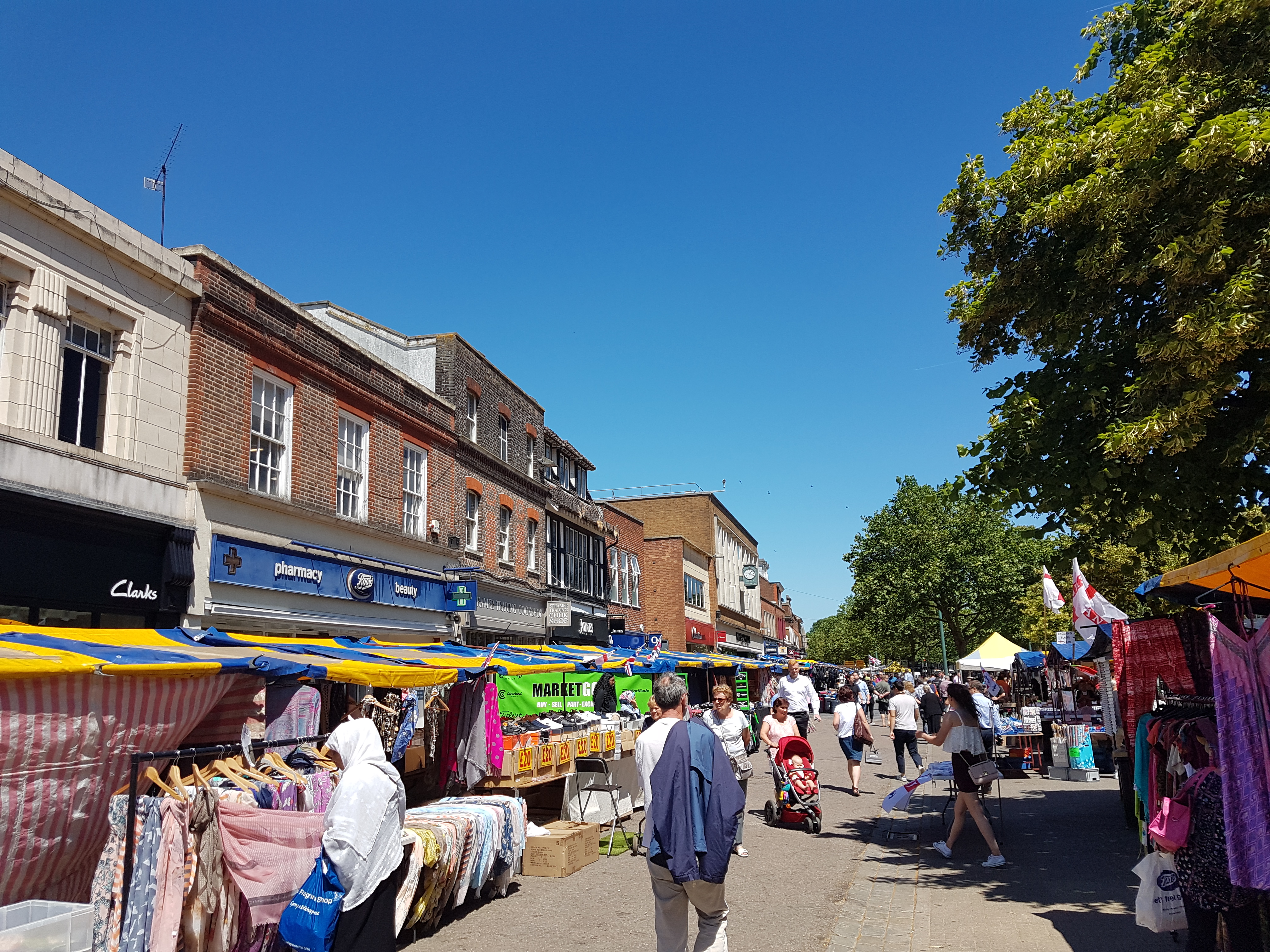 Charter Market – traders set to help shape market for safe social distancing
A team from St Albans City and District Council met with market traders on Friday (31 July) to listen to their concerns and their ideas for running the Charter Market during the current pandemic.
With limited space in the permitted footprint of the market because of the need for social distancing, the Council has negotiated with landowners in adjoining areas to allow the market to extend further around the city centre.  On Saturday, the 'Charter Market Fringe' was launched extending the market to High Street and around the Alban Arena.  
While some traders took advantage of the opportunity to trade in the new locations, others held back due to a concern about limited footfall, although the overall feedback from the traders operating on High Street was positive.
Even with the extra space, there is not room for all the stall holders to trade every week to allow for the social distancing space necessary for shop queues, market queues and pedestrians during peak times. 
The Council wants to involve the traders, many of whom have been stalwarts of the market for many years, to help determine how best to decide fair trading arrangements.
Officers are getting together on Wednesday (5 August) with some of the traders who were at the meeting on Friday to look at specific suggested layouts which they feel could best maximise the space available.
Cllr Mandy McNeil, the Council's Portfolio Holder for Business, Tourism and Culture said: "We had a good and productive meeting with traders on Friday.  I was pleased to see so many traders participating in the virtual meeting and to see such willingness to work with the Council to find a solution.  I also got a real sense that the traders understand and are sympathetic to the Council's need to ensure effective social distancing at the market, but understandably, they are also worried about their own livelihoods and want to be able to trade.

"We will continue to have these meetings on a regular basis so we can work together to keep the market open, vibrant, and safe.

"Council officers and I are meeting with a smaller number of traders again on Wednesday to walk the market and discuss some specific ideas. 

"On Saturday, I walked around the market with some of my fellow councillors, both to shop and to listen to what traders had to say.  Some of them are in difficult circumstances and I'm keen to understand how best to help them.  Some were not aware of the government discretionary funding that has been made available to certain types of business and that many market traders are eligible for.  There is information on the Council's website* about how to apply, and I urge traders to do so.  The deadline is 16 August, so they need to get their applications in soon.  Council officers can help those who do not have access to a computer to apply online."
Councillor contact:  
Mandy McNeil, Portfolio Holder for Business, Tourism and Culture
Email: cllr.m.mcneil@councillor.stalbans.gov.uk
Tel: 07584 198999.
Contact for the media:
Claire Wainwright, Policy and Communications Manager: 01727 819572, claire.wainwright@stalbans.gov.uk. 
Notes for editors
*Information about the government's discretionary funding is available on the Council's website and the application form can be accessed at https://stalbans.force.com/guest/s/coronavirus-discretionary-grant-fund-v2. For assistance for those who do not have a computer, please contact the Council's team on 01727 819561.