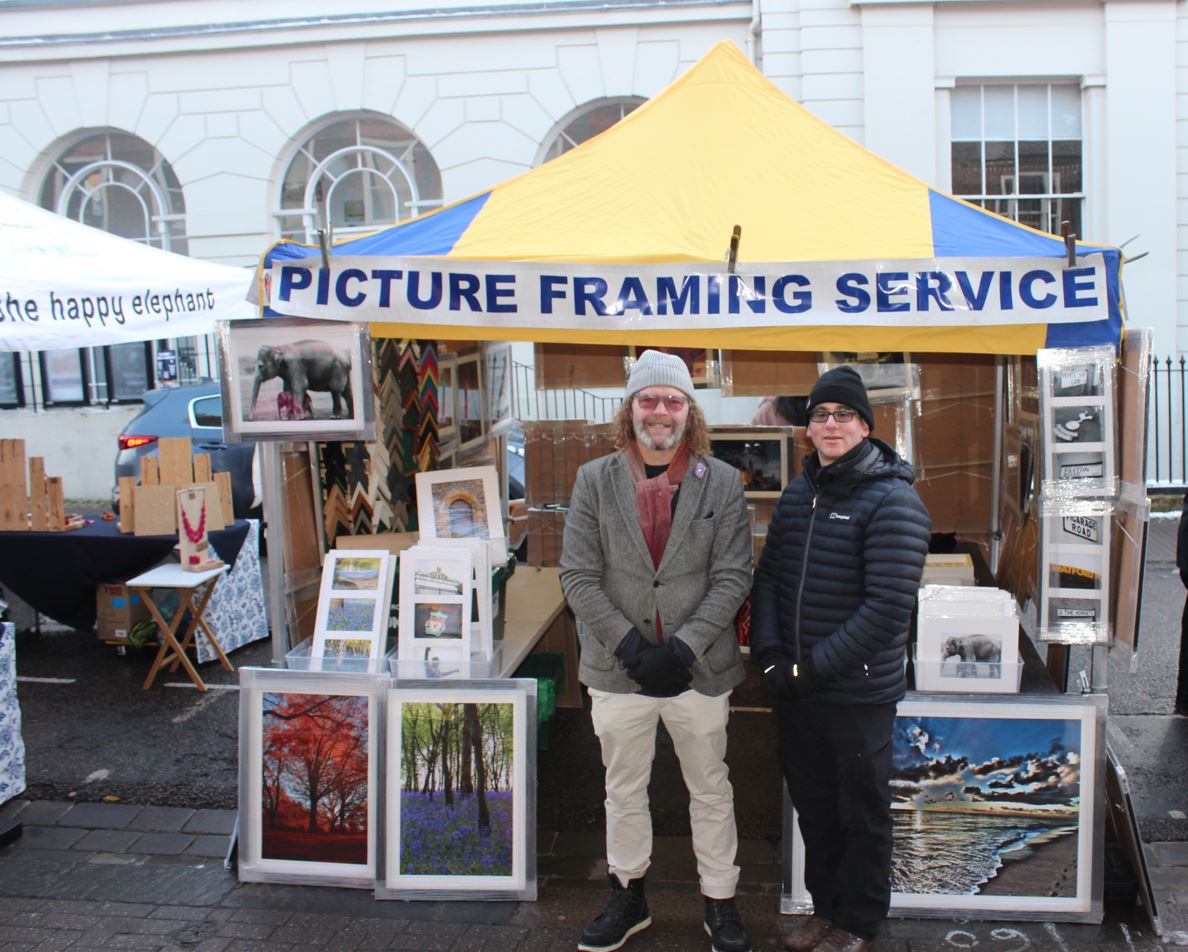 St Albans visitors and residents can still snap up last minute bargains and gift ideas for the festive season from the City's historic Charter Market.
Demand for pitches has continued to grow recently with 103 taken up by 84 traders on Saturday 10 December – the highest figures for the current financial year.
The Council is also working with traders on improvements, having purchased 35 new gazebos as part of a loan scheme. These will be distributed to traders whose equipment is wearing out or in disrepair.
Branded in St Albans colours of blue and yellow, they are intended to add to the traditional look and feel of the market.
Picture framer and photographer Anthony Lewis who has been trading at the Market for 13 years was the first to use one.
Anthony said:
I am delighted to have been loaned this by the Council. My own one was falling apart.

I am impressed by how strong and sturdy it is – ideal for all weather conditions. The St Albans colours also really stand out.
Councillor Danny Clare, Lead Councillor for Markets, said:
This will help give our wonderful Charter Market a really pleasing look.

The blue and yellow identity of St Albans Market is something of great importance to residents and will make a welcome return. We shall also be introducing additional St Albans Market signs at key entry points.

We will be loaning the new gazebos to regular traders who request them over the next few weeks.
As part of the hybrid Market, traders can also bring their own branded gazebos and stalls. There are also a number of vans and trailers, mainly selling street food.
Cllr Clare said:
The purchase of the gazebos shows our commitment to enhancing the Market despite the current financial climate which puts our budget under immense pressure and impacts on the local economy. The Market is one of the City Centre's main attractions and we are determined to keep it that way.

The pandemic brought about changes to the Market with gazebos being allowed to facilitate the market remaining open while the market stalls were retired.

Now we are creating a Market with flexible trading platforms, these branded gazebos are very much part of that exciting new look. We shall further enhance the offering and Market experience in the coming months with new traders, events and pop-up seating areas all being added.
Picture: Cllr Danny Clare, left, and trader Anthony Lewis at the Charter Market with the new gazebo in St Albans colours.