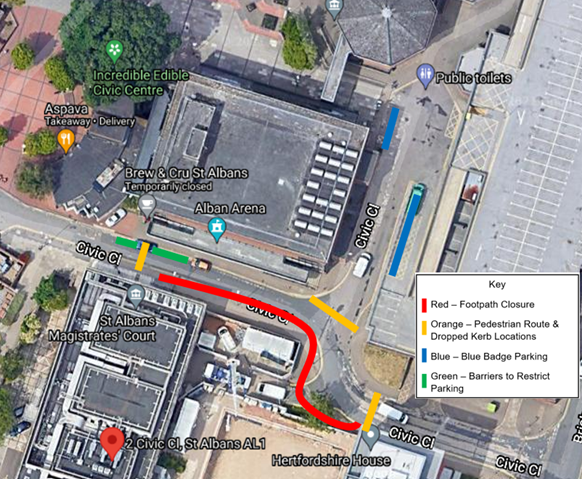 City Centre pavement closure
A footpath in St Albans City Centre is to be closed to allow work to progress at a major housing and commercial development.
Part of the southside pavement of Civic Close, which runs between Bricket Road and the Alban Arena, is being sealed off for around eight months.
The action is being taken so that scaffolding can be put up for construction work at the development known as the City Centre Opportunity Site (CCOS) South.
Pedestrians will be safely re-routed away from the closed footpath by signs and barriers.
Civic Close will remain open to vehicles accessing the Arena and St Albans Magistrates' Court.
Blue badge holders will not be able to park on the road but will be directed instead to disabled spaces opposite the rear of the Arena.
CCOS South is a £60 million development by St Albans City and District Council on the site of a former police station and NHS clinic.
It will include a residential block adjacent to a commercial one with the buildings separated by a landscaped pedestrian walkway that will wind through the revitalised Quaker Garden.
Altogether, there will be 93 new homes including 60 for sale at market price and 33 for social rent. There will also be around 6,000 square metres of business space and 100 car parking spaces.
Councillor Robert Donald, Chair of the Regeneration and Business Committee, said:
Work on CCOS South by our contractor Morgan Sindall is progressing at pace.

We have had to close part of the Civic Close pavement to allow the next phase of construction to take place.

This has been planned in great detail as it is a well-used route and the health and safety of pedestrians and road users has been our paramount concern. There will be well-signposted diversions in place for pedestrians and for blue badge holders used to parking on the street.

Blue badge holders will be directed to disabled spaces further along Civic Close, opposite the rear of the Arena.

This may cause people a little bit of inconvenience for a while and we are sorry about that.

However, we are creating an exciting, landmark building in the heart of the City along with much-needed new housing – including social housing – business space, a redesigned Quaker Garden and promenade walkway. I am sure people will be understanding.
Councillor contact:
Councillor Robert Donald, Chair of the Busines and Regeneration Committee for St Albans City and District Council: cllr.r.donald@stalbans.gov.uk, 01727 841647.
Contact for the media:
John McJannet, Principal Communications Officer: 01727 819533, john.mcjannet@stalbans.gov.uk.