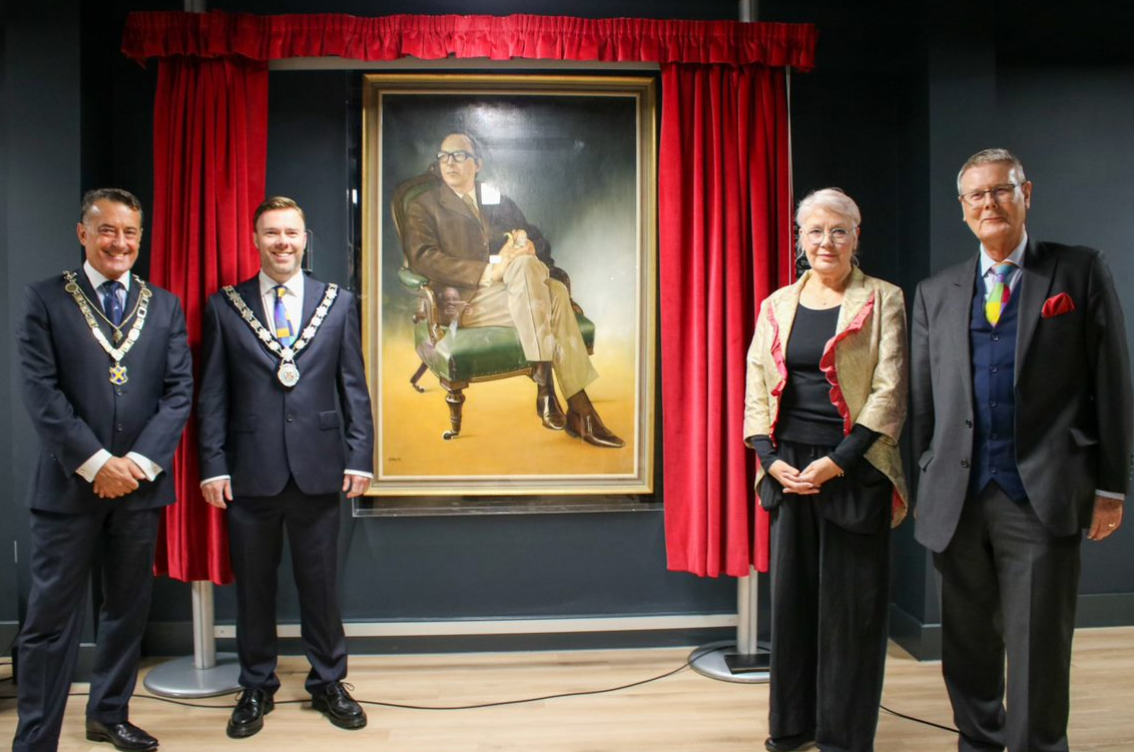 Comedy legend remembered as new culture hub – The Eric Morecambe Centre – opens in Harpenden
The community of St Albans and Harpenden had a fun and entertainment-filled weekend as the Eric Morecambe Centre was officially opened.
The culture centre, which has been constructed on the site of the town's former sports facility at Rothamsted Park, was launched on Saturday 16 October by the Mayor of the City and District of St Albans, Councillor Edgar Hill. Eric's daughter Gail was in attendance.
The Eric Morecambe Centre (EMC) includes a 511-seat theatre with state-of-the-art production equipment to allow major touring shows to be staged as well as those put on by local groups.
Morecambe was a resident of Harpenden at the height of his TV fame as a double act alongside Ernie Wise.
The EMC will also double-up as an exhibition space with two functions rooms, a history room, bars on two floors and a coffee shop with views across the popular local park.
The Centre was constructed along with the Harpenden Leisure Centre, which was officially opened by Olympians Max Whitlock and  Gail Emms last month, as part of a £20 million investment programme into the town by St Albans City and District Council.
Councillor Robert Donald, Chair of the Council's Business and Regeneration Committee, said:
We are very grateful to his family for allowing us to name the new centre after Eric and for donating a portrait of him which we are displaying in pride of place in the EMC's foyer to celebrate his life.

The new centre is a first class replacement for the Harpenden Public Halls and will act as a wonderful addition to the area. 

The Eric Morecambe Centre admirably complements the new leisure centre in Rothamsted Park, providing the local community with a space to stage and enjoy a wide range of performing arts, film, cultural and social events as well as housing a museum and the Harpenden History Society. It will encourage community creativity and artistic expression for residents in Harpenden, our District and beyond to enjoy which I believe Eric himself would have fully approved.
The auditorium of Harpenden Public Halls - which the EMC is replacing – had also been named after Eric.
Councillor Donald added:
Our country and our local communities are going through hard times at the moment. If this Centre can bring just a quarter of the happiness, sunshine and laughter that Eric brought to millions of people in his lifetime this building will truly live up to its name.

The EMC will be a fitting and living memorial to generations to come of one of Harpenden's funniest comedians, most loved residents and famous stars. 

It's over to residents now to use and enjoy this fantastic new cultural facility to achieve the EMC's full potential.
EMC is owned by the Council and managed by leisure and lifestyle contractor 1Life.   
Mark Braithwaite, 1Life Managing Director, said:
It's fantastic to have this brilliant new facility to replace the much-loved public halls and enhance the uptake and provision of arts for the wider community. Combined with the regeneration of the old sports centre, there's a wealth of opportunities available for people to get involved in, and we look forward to welcoming people to come and see the new facilities.