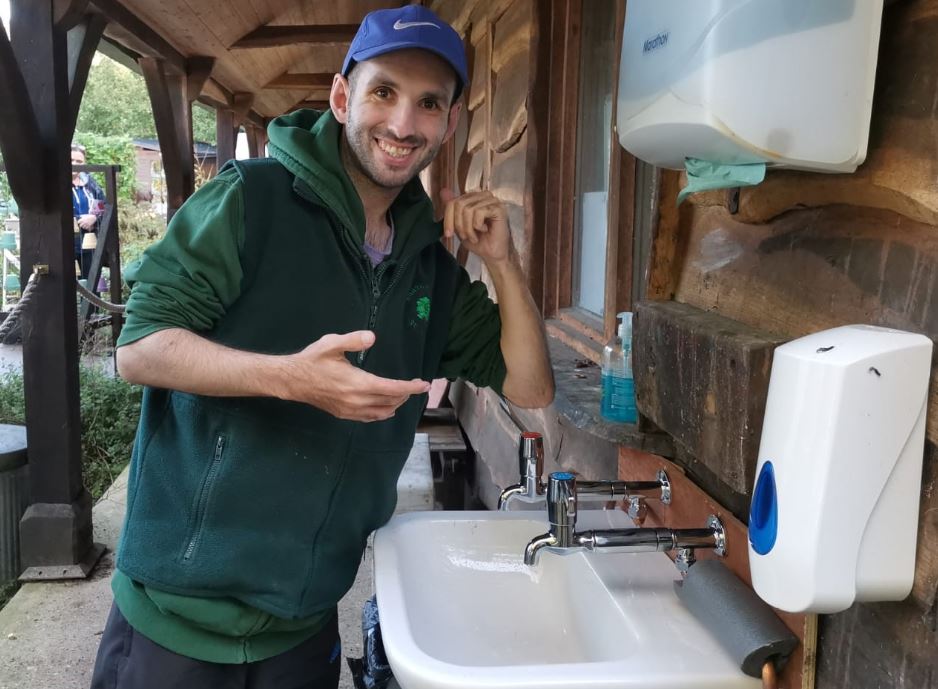 Community grant fast-tracked because of Covid-19
A grant to a charity that supports people with learning disabilities has been fast-tracked because it will help protect them against Covid-19.
St Albans City and District Council has provided Earthworks with £1,650 to install accessible outdoor hand-washing facilities.
This has enabled Earthworks to allow those it helps to return to work at its 3.5-acres of eco-gardens in the City.
The charity gives people with learning difficulties the chance to become Earthworkers, developing gardening and life skills while enjoying a wide range of experiences.
Alongside volunteers, Earthworkers cultivate organic fruit, vegetables and plants and build habitats for wildlife.
The grant has been used to adapt outdoor taps so the Earthworkers can regularly wash their hands while working outdoors to protect against the virus.
This has permitted the Earthworkers to return to the site in greater numbers, having been prevented from doing so for safety reasons since the Covid-19 lockdown started.
The Council provided the grant from its £10,000 Project Commissioning Fund which was set up to help the District's voluntary and community sector. It helps projects which address a specific need.
It aims to provide seed funding for the establishment of valuable community services to the vulnerable.
Councillor Jacqui Taylor, Portfolio Holder for Housing, Inclusion and Protection, and chair of the Council's Grants Panel, said:
We're delighted to help such a worthwhile cause so that the Earthworkers could return safely to their gardens.

With the urgency of the growing and harvest season apparent, I consulted with the council's community engagement officers to see if there was a way to fast track this application.

They advised that for a relatively small, capital project, the Council's project commissioning fund could support this much quicker and we have now done that.

This shows both our determination to support our voluntary sector and to be highly responsive to the emergency nature of the Covid-19 pandemic.
Earthworkers' Chief Executive Officer Bianca Badham said:
We've made a number of essential COVID-secure adaptations to our site to ensure the safety of our Earthworkers, volunteers and staff.

We are all delighted with the new hand washing facilities, funded by the Council.

These adaptations have helped to double our capacity by enabling our Earthworkers to independently wash their hands regularly, reducing the need for close-contact support and enabling individuals to keep a safe social distance at our eco-gardens.
A grant application from community station Radio Verulam was also fast-tracked by the Council because of the public health emergency.
The bid was for high-quality microphones that will be loaned to community groups. Presenters will then be able to conduct interviews with their representatives who want to relay messages and information to at-risk groups.
Other community groups with ideas for projects to support vulnerable people can get in touch with the Council's Community Engagement Team at engagement@stalbans.gov.uk.
Picture: Earthworker Joe tries out the new taps.
Councillor Contact: Councillor Jacqui Taylor, Portfolio Holder for Housing, Inclusion and Protection for St Albans City and District Council: cllr.j.taylor@stalbans.gov.uk; 07971 906343.
Contact for the Council media:
John McJannet, Principal Communications Officer: 01727 819533, john.mcjannet@stalbans.gov.uk.