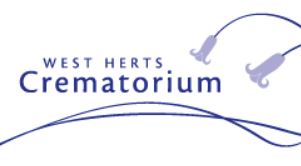 Construction starts on new West Hertfordshire crematorium that will benefit St Albans District residents
Work starts today on a new crematorium based near Hemel Hempstead that will serve the needs of residents in St Albans, Watford, Three Rivers, Hertsmere and Dacorum councils.
The single-storey crematorium which will be a sister site to West Herts Crematorium will feature a remembrance chapel and gardens that sit within extensive landscaped grounds on land adjacent to the new Poppy Fields cemetery at Bedmond Road to the west of Hemel Hempstead, and east of St Albans.
The crematorium is being developed to provide additional capacity in the West Hertfordshire region. The new facility will enhance the quality of service provided to bereaved families by increasing service times from 40 to 60 minutes so there is more time for individual ceremonies.
West Herts Crematorium based in Garston opened in 1959 and performs over 3,000 cremations annually for residents from the West Hertfordshire area, so the new site will be a welcome addition providing the same high quality service.
Cllr Anthony Rowlands, Lead Councillor for public realm services at St Albans City and District Council, and Chair of the Council's Public Realm Committee, said:
I'm glad to see construction work on the new crematorium near St Albans begin and, in time, for additional facilities to be provided for local families to commemorate their loved ones in a peaceful and beautiful setting.
The West Herts Crematorium Joint Committee, which includes representatives from all of the local councils in the area and oversees the management and the operation of the existing crematorium in Garston, will also manage the new facility. It will operate on the same basis as the existing crematorium with services running Monday to Friday and general enquiries on Saturdays.
Construction works started on Monday 1 November and are expected to be completed by December 2022.
ENDS