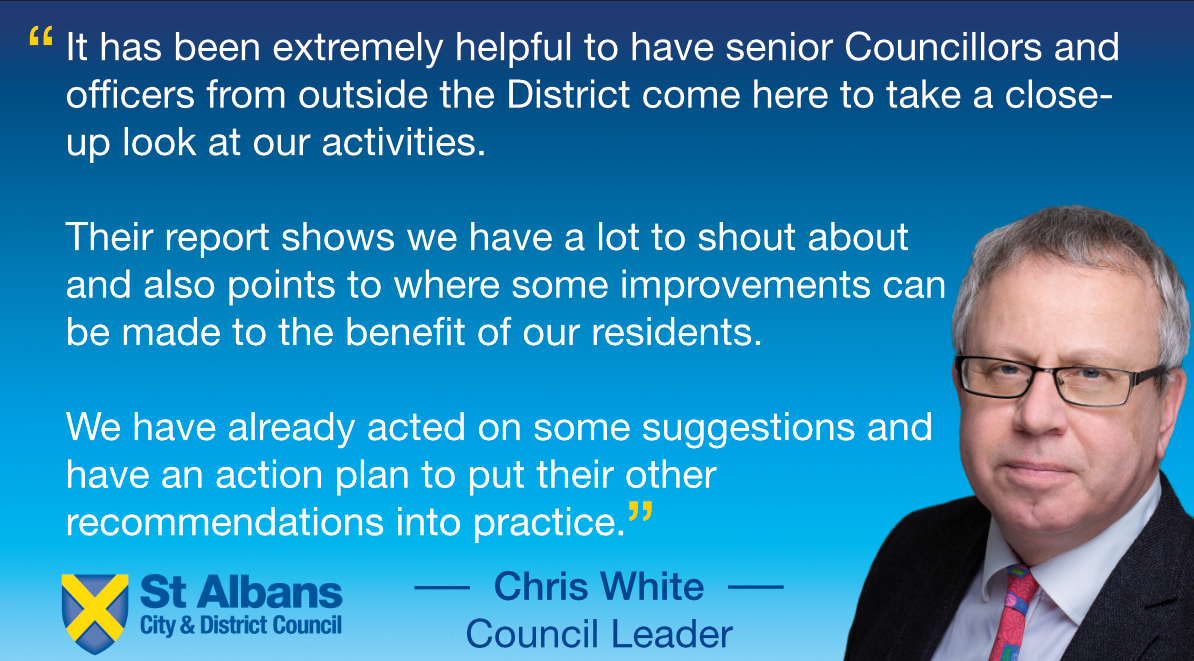 Corporate Peer Challenge report published
A panel of senior local government figures has carried out a review of St Albans City and District Council's (SADC) operations.
The team, all from outside the Council, undertook the Corporate Peer Challenge on behalf of the Local Government Association.
A feedback report, including ten key recommendations for improvements, has now been published and can be viewed here.
The report found: "Both political and officer leadership teams are widely respected internally and externally.
"Their active engagement across the District and County on issues including health, education, growth, economy and climate is ensuring the Council's voice is heard and constructive partnership conversations take place.
"SADC is absolutely viewed as a trusted systems leader in the locality and across Hertfordshire."
The team spent four days at the Council, gathering information and reading numerous documents to see what challenges the Council is facing.
They also spoke to 150 people including Councillors, staff and external stakeholders, and held 65 meetings.
Among the ten recommendations were:
Make the closure of the budget gap, the difference between spending and income, for 2024/25 "everyone's top priority".
Develop and communicate a long-term vision for the District.
Clarify the kind of growth that is wanted in advance of the creation of a Local Plan that identifies land for future housing, commercial and infrastructure use.
Build up the confidence of staff to take decisions.
Streamline the decision making processes and review what should be delegated to officers.
Develop the skills and knowledge of Councillors to improve leadership capacity.
Agree an approach to sharing services with other Councils to increase resilience and improve efficiency.
Review and develop a communications strategy that will better celebrate success.
Establish an effective performance management framework which focuses on delivery of outcomes.
One recommendation to make changes to the committee system has already been accepted and undertaken.
Councillor Chris White, the Council's Leader, said: 
It has been extremely helpful to have senior Councillors and officers from outside the District come here to take a close-up look at our activities.

The feedback report shows we have a lot to shout about and also points to where some improvements can be made to the benefit of our residents.

We have already acted on their suggestions for strengthening our committee system and are developing an action plan to put their other detailed recommendations into practice. The Peer Challenge team will make a further visit to the Council this year to check on the progress we have made and I look forward to that.
Amanda Foley, the Council's Chief Executive, said:
By opening up to the Peer Challenge team, we have shown we are committed to looking at actions we can take to improve.

The feedback report has looked at our operations in detail and I am pleased to see that it contains many positive comments about the work we are doing in this challenging financial climate.

It also contains recommendations and pointers as to what we should be doing to make ourselves even more efficient and responsive to our residents' needs. We will be working with our Councillors to implement these in the months ahead.
The peer challenge team included: Jon McGinty, Managing Director, Gloucester City Council;  Cllr Bridget Smith, Leader, South Cambridgeshire District Council; Andrew Limb, Assistant Chief Executive, Cambridge City Council; Mandy Jones, Strategic Director, Colchester City Council; Nick Khan, Strategic Director, East Suffolk Council; and Oliver Nottidge, Corporate Strategy and Policy Officer, North Lincolnshire Council.
Media Contact: John McJannet, Principal Communications Officer, 01727 819533, john.mcjannet@stalbans.gov.uk.