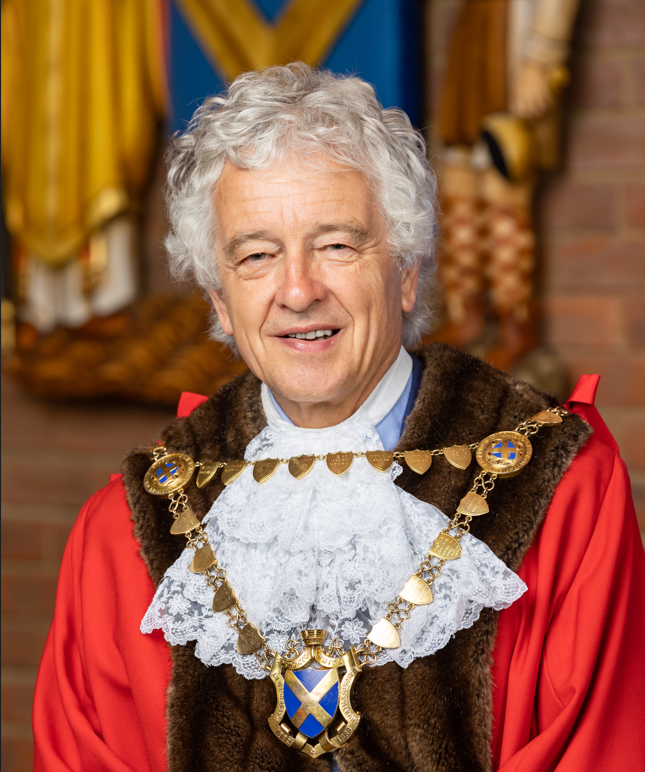 Councillor Anthony Rowlands elected as new Mayor of the City and District of St Albans
Councillor Anthony Rowlands has been elected the new Mayor of the City and District of St Albans – and has chosen All Ages Together as the theme of his civic year.
He was made Mayor for 2023/24 at the Annual Meeting of the Council on Wednesday 24 May with Councillor Josie Madoc becoming Deputy Mayor.
Mayor Rowlands, who succeeds Geoff Harrison, has been a District Councillor since 1986 apart from a short break of three years. He is the City's 479th Mayor with the first having been appointed in 1553.
He will chair Full Council meetings and represent the City at a variety of events, often involving voluntary and charity groups. 
Mayor Rowlands has decided to work towards improving social inclusion, accessibility and wellbeing across the District during his year in office.
He said:
I am delighted to have been elected to this historic position and look forward to the year ahead.

I intend to be a very active Mayor and will be going around the District to meet and talk with community groups, charities and other organisations to find out about their concerns and their ideas for drawing the generations together.

All Ages Together will be about increasing social cohesion, helping people forge new relationships and enabling friendships. More than anything, I want to help to connect our communities in order to banish loneliness and isolation which for many have been made worse by the continuing impact of the pandemic.

By bringing the generations together, we can create an age-friendly District to enrich all our lives.

History is also a vital and intricate component of our collective identity. I look forward to supporting the numerous local organisations which do excellent work in promoting awareness of our history.
Mayor Anthony Rowlands
Anthony has been District Councillor since 1986 apart from a short three year break from 2003 to 2006.
He attended school on his native Isle of Wight before winning an Open Scholarship to read Modern History at The Queen's College, Oxford. He then studied for post-graduate qualifications in education at Churchill College, Cambridge and London University.
In the first phase of his career, he worked as a history teacher at a number of secondary schools including Haberdashers' Boys' School in Elstree.
The second phase of his career began in 2000 when he was appointed Director of Centre for Reform, later renamed CentreForum, a liberal think tank based In London.
Over the next 15 years, he held a series of senior positions within the organisation and helped establish its successor, the Education Policy Institute.
Anthony settled in St Albans in 1981 along with his late wife, Harriet, and the couple's two children who were brought up and educated in the City. He now has four grandchildren.
In addition to serving on St Albans Council, Anthony has been a Hertfordshire County Councillor for St Albans East since 2017 having previously represented St Albans North from 1993 to 1997.
He has also stood for Parliament on four occasions – St Albans (1997), Isle of Wight (2005), Hertsmere (2010) and Broxbourne (2015).
Anthony has served in a wide range of roles on the District Council and between 2019-22 was Lead Councillor for the Public Realm responsible for leisure services, museums, waste and recycling, parks, open spaces, cemeteries and parking. From 2015-20, he was the Council's first Mental Health Champion.
An active sportsman, he has completed over 20 marathons with a best time of 2 hours 48 minutes although he admits: "That was a long time ago."
He was a Hampshire Schools cricketer and is an MCC member. He is also a long-time supporter and season ticket holder of both Burnley FC and St Albans City.
His other interests include American history, modern literature and visiting historic churches.
His partner Annie Stevenson will be Mayoress for the year and accompany him on many of his official duties.
She is a policy expert in social care and recently gained a lifetime achievement award from NAPA (The National Activity Providers Association), a charity that supports care homes. She also set up Friends of the Jubilee Centre in St Albans and chaired the organisation for five years.
Deputy Mayor Josie Madoc
Councillor Josie Madoc was born in St Albans Hospital in 1979 and has lived in the City ever since.
She was educated at St Albans & St Stephen Primary School and Loreto College before beginning a career in marketing.
Her various roles include working for St Albans Chamber of Commerce as well as some London-based companies. Her current job involves her commuting into the capital.
She has two teenage children with her husband Rhys Madoc who is also from St Albans and can often be found walking with her family and dog in Clarence Park.
Josie has dual Italian nationality with both her parents having emigrated to the UK from Sicily.
She became involved in local politics in 2019 through campaigning for more school places in St Albans back after her daughter struggled to find a place. She is also a District Mental Health Champion.