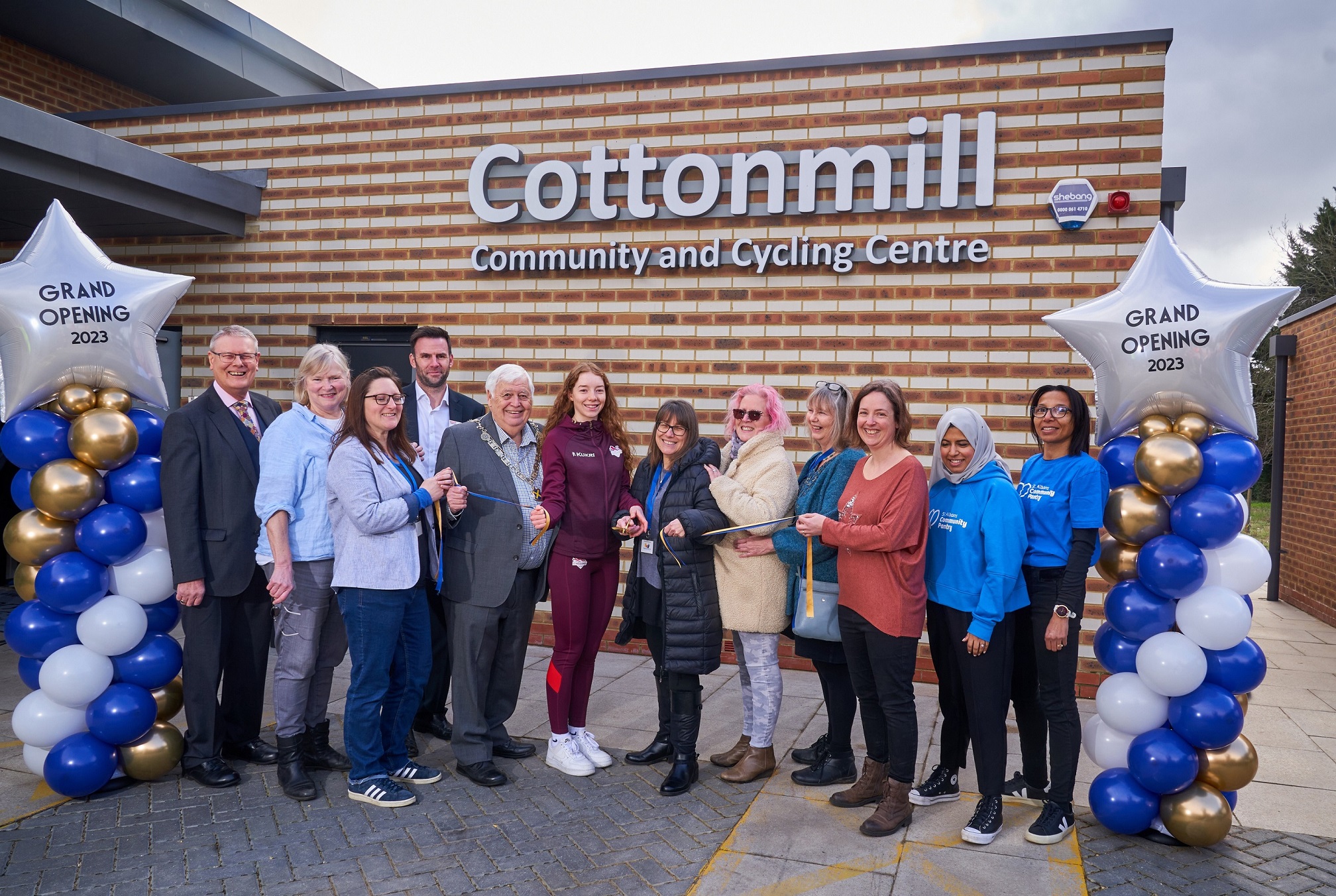 Cycling centre hosts successful open day for local community
Cottonmill Community and Cycling Centre hosted a successful open day on Saturday 4 March to celebrate the official opening of this unique site across the local community.
English cyclist and Commonwealth Games athlete, Josie Nelson, attended to raise awareness of the importance of cycling focused hubs, commenting that they attributed to her own success.
Managed by Everyone Active, in partnership with St Albans City and District Council, the centre provides a hub for the local community, with a reported 20,000 people visiting since it launched last year.
The open day offered a variety of free sporting activities including: table tennis tasters, sessions on the BMX Pump-Track and Baby Pump-Track, alongside a performance from local singing group, Sopwell singers, and much more.
In addition, Josie, who is also part of Everyone Active's Sporting Champions scheme, shared her top tips with budding cyclists using the track, commenting:
You never know, one of these cyclists could be joining me at the next Commonwealth Games in future!
Steve Cox, contract manager at Everyone Active, said:
This weekend was a fantastic opportunity to celebrate the opening of Cottonmill Community and Cycling Centre. It's a unique offering for the local community and we've already seen a positive uptake.

The open day was a great way to continue to raise awareness of the site. Everyone enjoyed the free activities available whilst meeting our fabulous Sporting Champion, Josie Nelson, who shared her top tips for success on the track.
Councillor Geoff Harrison, Mayor of St Albans City and District, said:
I felt honoured to preside over the official opening of this outstanding centre which has so much to offer the surrounding community.

 The facilities, indoor and outdoor, are first class and I was pleased to hear that the centre is being well used. I was particularly impressed by the pump and cyclocross tracks and was almost tempted to get on a bike and give it a go!
Councillor Helen Campbell, Chair of the Public Realm Committee of St Albans City and District Council, added:
It is great to see that we have fulfilled our ambition of replacing the old Marlborough Pavilion with a new community and cycling centre of the highest quality.

 This was an ambitious, multi-million pound project that we undertook in collaboration with the local community which helped shape the plans and raise funds.

 I believe that together, we have created something really special here  - a fantastic multi-purpose community facility that will be enjoyed by Sopwell and St Albans residents for years to come.
The centre provides a BMX pump-track and cyclo-cross track, an impressive cycle hub offering bike maintenance and repairs workshops, a wudu room (ablution facilities for Muslim prayer), function room and café, alongside being utilised as a training facility for local cycling and triathlon clubs.
For press information: please contact Kathryn Webster on kathrynwebster@everyoneactive.com.
Photo by Simon Jacobs: Supporters of the Cottonmill Community and Cycling Centre at the official opening, including Mayor of St Albans City and District, Cllr Geoff Harrison (5th from left), Cllr Robert Donald, Chair of the Council's Regeneration and Business Committee (far left), James McNulty, contract manager Everyone Active (behind Mayor) and Josie Nelson, UK cyclist and Everyone Active Sporting Champion (centre)
Notes to Editors
Everyone Active is the trading name for Sports Leisure Management Ltd (SLM), which operates leisure facilities in partnership with local councils across England.
SLM is the longest-established leisure operator in the UK, having formed in 1987. At the time, it managed just one leisure centre in the Midlands, whereas today it has grown to operate more than 200 leisure facilities and cultural services across the country in partnership with over 60 local authorities.
Its influence reaches as far as Sunderland in the north to Chichester in the south, and Mid Suffolk in the east to Bristol in the south west. SLM's growth is due to its ability to deliver well-managed leisure facilities and activity services that offer great value for money. Its aim is to increase local people's participation in sports and leisure activities by advocating that all adults achieve a minimum of 30 minutes exercise five times per week.