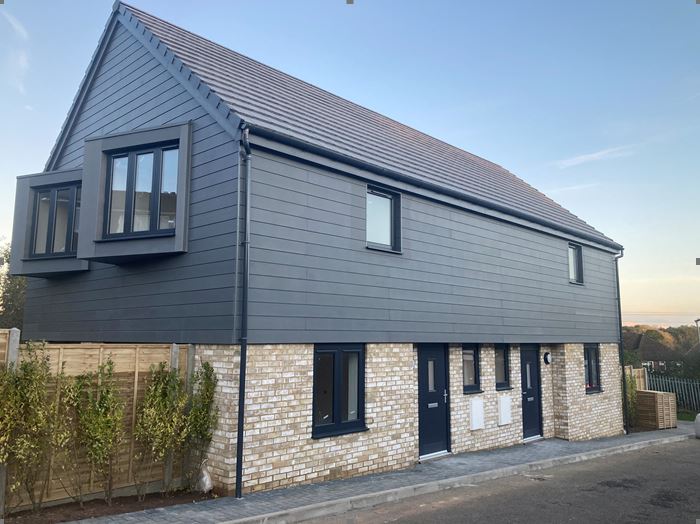 Eco-friendly air source heat pumps fitted in new Council homes
Two new social-rent homes have been built with eco-friendly air source heat pumps to cut carbon emissions.
This is the first time St Albans City and District Council has equipped new properties with the pumps rather than with gas boilers.
The Council is committed to tackling climate change and reducing emissions across the District to net zero by 2030.
It is undertaking more than 100 actions to do so including making its homes and buildings more energy efficient.
The new two-bedroom properties were built on an unused garage site in Holyrood Crescent, Sopwell, St Albans.
They also have allocated parking spaces while the surrounds have been landscaped.
Both properties have been made available for social rent and allocated to families on the Council's housing register.
The houses were built by construction firm London Dream Building and are part funded by a Homes England grant of £120,000.
The Council has been redeveloping a number of garage sites across the District which will provide more than 100 new social-rent homes.
Councillor Jacqui Taylor, Chair of the Housing and Inclusion Committee, said:
I am delighted that the importance we have placed on the environment since declaring a climate emergency is now being seen in the delivery of new social housing.

In building these homes, we have ensured that they are as environmentally sound as possible by using air source heat pumps for the first time to keep emissions down while also ensuring high standards of insulation.

This project is also further evidence of our commitment to create more much-needed social housing for the District.

It is only a small development but it is part of a larger effort to turn little-used garage sites across the District into social housing. It will also take two more households off the Housing Register and into high quality homes.
Councillor contact:
Councillor Jacqui Taylor, Chair of the Housing and Inclusion Committee, cllr.j.taylor@stalbans.gov.uk, 07971 906343.
Contact for the media: 
John McJannet, Principal Communications Officer: 01727 819533, john.mcjannet@stalbans.gov.uk.