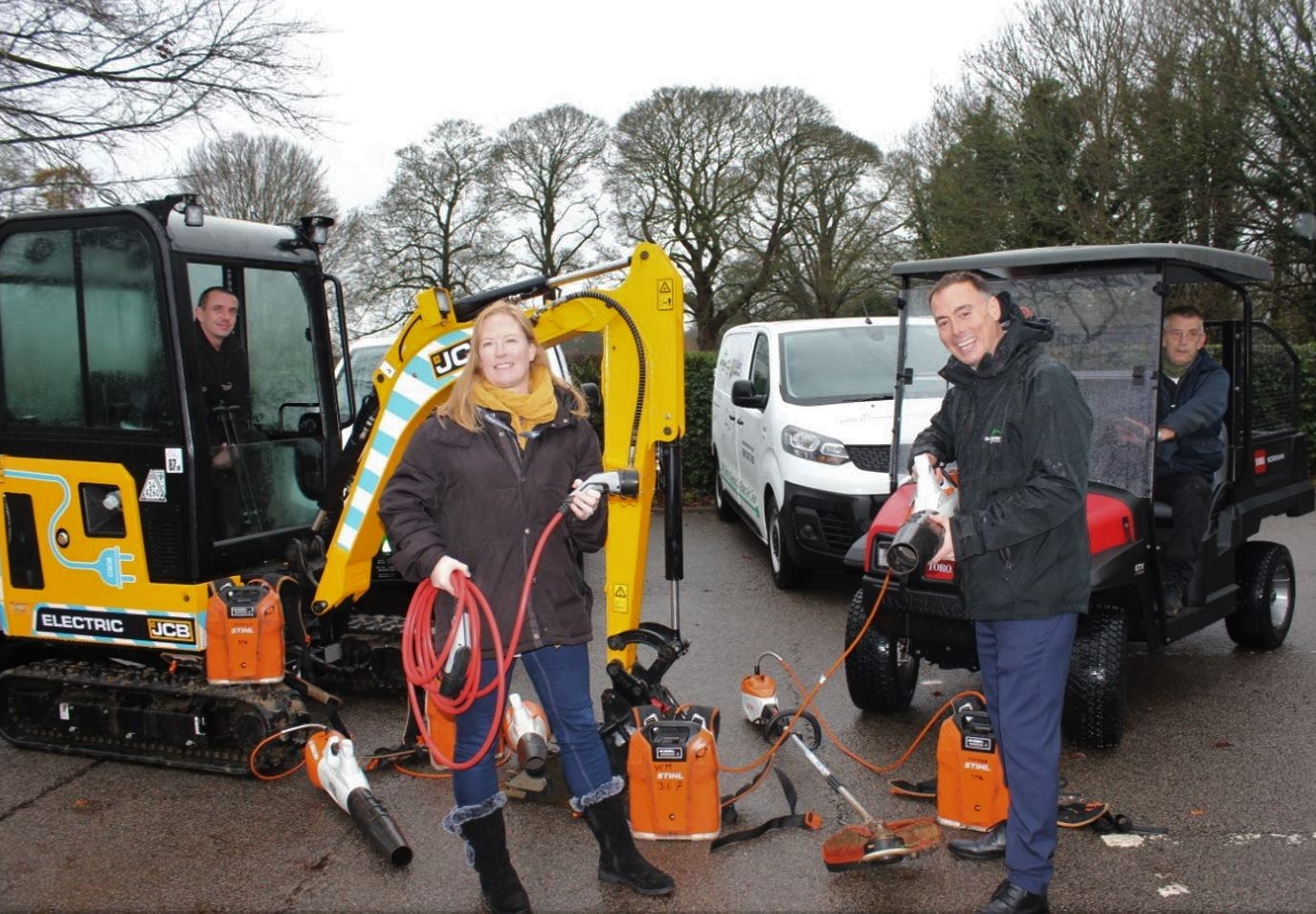 Eco-friendly equipment now being used in St Albans District parks and open spaces
More eco-friendly equipment is being used to maintain parks and green spaces in St Albans District.
John O'Conner – St Albans City and District Council's grounds maintenance contractor – is ditching petrol-driven machines for battery-powered ones.
The switch is in keeping with the Council's commitment to tackling climate change by cutting emissions to net zero across the District by 2030.
Among the all-electric equipment now being used are an all-terrain vehicle for park patrols, two vans and a JCB excavator for digging and heavy-lifting work.
A range of battery-powered hand-held equipment is also being used, including strimmers, leaf blowers and hedge cutters.
These also have the advantages of being quieter and healthier for the operator as there are no fumes.
Councillor Helen Campbell, Chair of the Council's Public Realm Committee, was shown the equipment in action on a visit to Verulamium Park in St Albans where she also talked with some of the grounds maintenance crew.
She said:
I am very pleased that John O'Conner is reducing emissions by moving towards all-electric equipment.

Our priority as a Council is to improve the District's environment and this is one of dozens of measures we are supporting to take us in that direction.

From talking to John O'Conner's management team and staff, I know they are fully committed to reducing emissions for the benefit of our residents, providing them with cleaner air.

These are people who spend their working lives outdoors, protecting and improving the natural environment, so it is not surprising that they are setting a great example.
Matt O'Conner, the company's Managing Director, said:
I was delighted to show Councillor Campbell our new electric equipment and talk about the difference it is making to our work.

We have introduced a considerable amount of low or zero carbon machinery and will look to take up any further opportunities to reduce emissions.

Everyone has a part to play in tackling the climate emergency and it is important to us, as a grounds maintenance contractor, that we set an example in that endeavour.
John O'Conner has also been trialling all-electric grass cutters, including ride-on mowers, with the view to replacing petrol-driven ones.