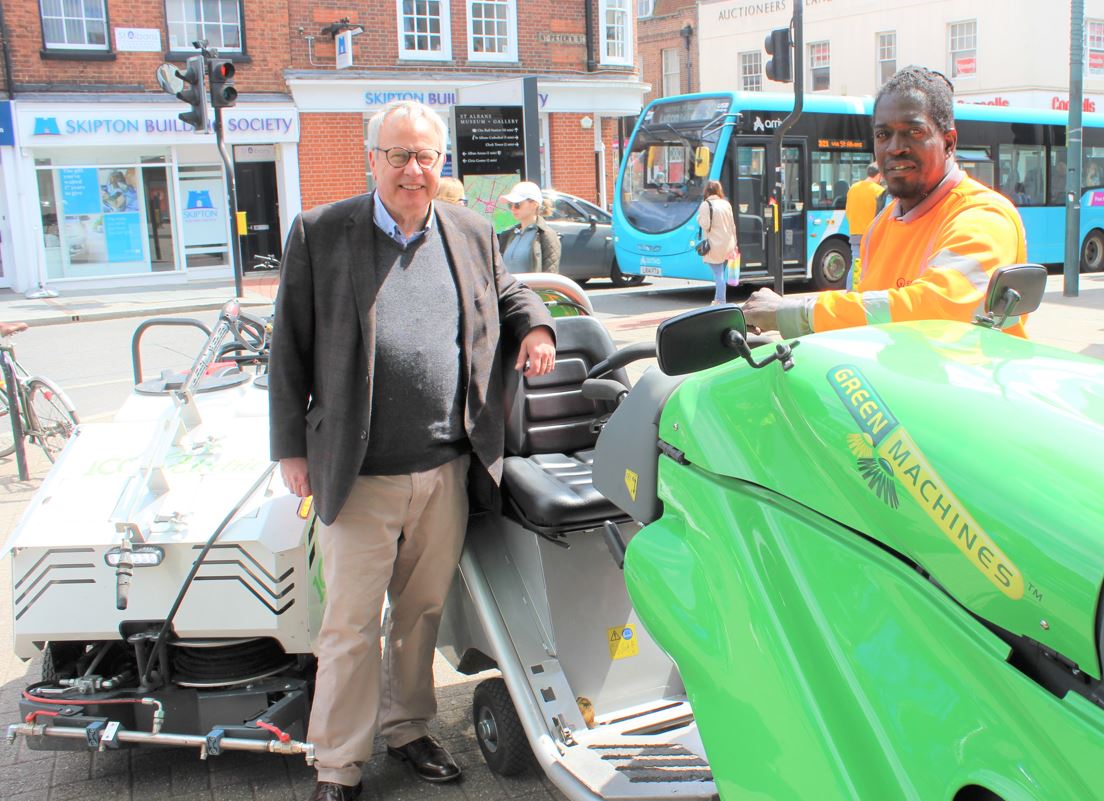 Eco-friendly street cleaning equipment on trial
New eco-friendly street cleaning equipment has gone on trial in St Albans City Centre.
The all-electric Tenax Hydro street washer is battery-powered and designed to give kerbs, pavements and walls a facelift.
It pressure-washes grime and dirt from surfaces with an anti-bacterial solution to leave them clean and sparkling.
St Albans City and District Council is trialling the machine to see if it improves the look of the City Centre in an emission-free way.
Councillor Chris White, the Council Leader, saw waste contractor Veolia's staff put the equipment into action.
He said:
We are already getting positive feedback about this innovation. There was some welcome comment on social media about how impressively it had cleaned up Boot Alley.

This trial shows our determination to both enhance our City Centre and tackle the climate emergency by using the most environmentally-friendly equipment whenever possible.
Cllr White also inspected a new-style litter bin, containing an internal compactor, which is also on trial.
He said:
This bin can hold far more than conventional ones as the rubbish is crushed to a small size.

This means there is less chance of overflowing bins while Veolia can make more efficient use of their staff as there will be fewer trips to empty it.

We'll be monitoring the results of these trials closely and possibly trialling some other equipment before deciding on any purchases to bolster our street cleaning operations.
Nikki Mills, Contract Manager for Veolia St Albans, said:
We're pleased to see the positive impact that these new machines have had on our high streets.

At Veolia, we continually trial innovative solutions which help to improve our services and this year we are exploring a range of technologies which can keep our streets clean whilst reducing our emissions.
Pictures: top, Cllr White talks to Veolia street cleaner Lloyd Grant about the Tenax Hydro, left, and the Green Machine street sweeper; bottom, Cllr White inspects the compactor bin.
Councillor contact: Councillor Chris White, Leader and Chair of the Policy Committee: cllr.c.white@stalbans.gov.uk; 01727 845300.
Contact for the media:  John McJannet, Principal Communications Officer: 01727 819533; john.mcjannet@stalbans.gov.uk.