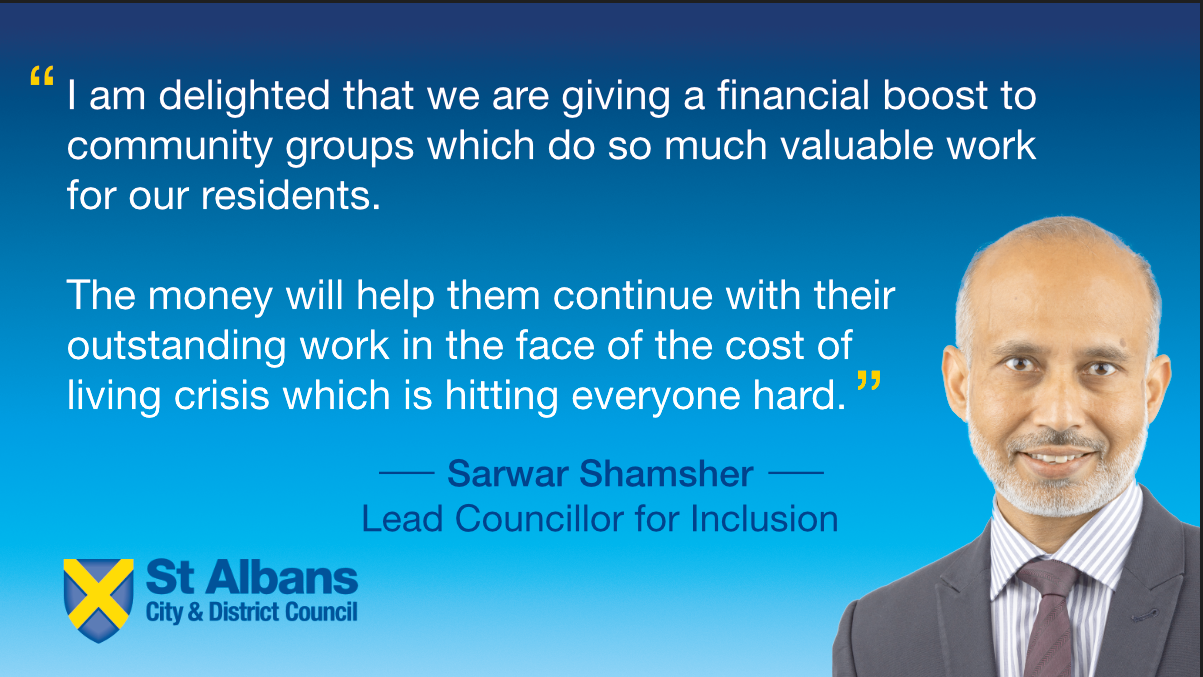 Eight community groups and charities share £46,855 of grants
Eight community groups and charities were boosted by £46,855 of grants from a St Albans City and District Council fund.
The money is intended to support running costs at a time when organisations have been hit by high inflation and other financial challenges.
Groups which benefited had to meet the objectives of the Council's Equality, Diversity and Inclusion Strategy that seeks to give everyone the opportunity to take part and contribute to community life.
The grants from the Council's 2022-23 Community Revenue Fund were listed in a report to the Housing and Inclusion Committee on Monday 19 June.
Earthworks, providing gardening and other nature-based activities for people with learning difficulties, £5,000.
HAWA Multicultural Services, running the Saheli Tiffin Club for women over 45 from diverse communities to exercise and form friendships, £5,000.
Herts Disability Sports Foundation, providing bicycles and training to primary school children from deprived areas, £4,280.
Herts Vision Loss, supporting blind and visually impaired residents through various services, £5,000.
Home Start, weekly home-visiting support for vulnerable families with young children, £5,000.
Leeanna's Wish, running a Saturday club for vulnerable and disadvantaged young people to develop life skills, £8,000.
St Albans City Youth FC, access to football activities to young people with a range of disabilities, £6,615.
Trestle Theatre Company, drama, singing and dance sessions for vulnerable and isolated adults and young people, £7,960.
Councillor Sarwar Shamsher, the Committee's Vice Chair and Lead for Inclusion, said after the meeting:
I am delighted that we are giving a financial boost to these community groups which do so much valuable work for our residents.

The money will help them continue with their outstanding work in the face of the cost of living crisis which is hitting everyone hard.

As a Council, we have developed an Equality, Diversity and Inclusion Strategy that ensures we support the District's most vulnerable people and tackle discrimination, loneliness and other social issues.

These grants have been awarded to community groups which are helping us to achieve those objectives and are making a positive difference.
Contact for the media: John McJannet, Principal Communications Officer,  01727-819533, john.mcjannet@stalbans.gov.uk.