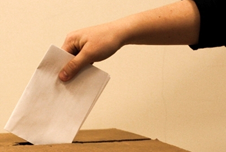 By-election in Clarence Ward
A by-election for a seat on St Albans City and District Council is to be held in the Clarence Ward.
The ballot on Thursday 3 October follows the resignation of Councillor Caroline Brooke. The seat's term runs until May 2022.
Residents will have to be registered to vote by Tuesday 17 September. Those who are not registered can do so online at: www.gov.uk/register-to-vote. 
Once registered, Clarence residents will be able to vote in one of three different ways: 
At a polling station: if you are registered to vote, a poll card will be sent to you. It tells you which one of two polling stations you should vote at. It is helpful if you take your poll card with you, but it is not essential. 
By post: the deadline for applications for postal votes is 5pm Wednesday 18 September. 
By proxy: this allows another person to vote on your behalf.  The deadline for applications 5pm Wednesday 25 September.
More than 5,000 people are already on the electoral register for the Clarence ward. 
Mike Lovelady, the Council's Returning Officer, said:
Anyone not yet registered to vote should do so as soon as possible. 

They will then be able to have their say on who will represent them on the Council for this vacant seat. It only takes a few minutes to complete the form and register to vote online.
Paper copies of the registration form can be obtained by email on elections@stalbans.gov.uk  or by phone on 01727 819294. 
Anyone wanting to stand in the by-election must hand in nomination papers to the Returning Officer by 4pm on Friday 6 September. The candidate list will be published shortly afterwards.
Nomination papers may be obtained from the Council's Electoral Services, The Civic Centre, St. Peters Street, St Albans, Herts, AL1 3JE, during normal office hours. 
To be eligible to vote in the election you must be registered, aged 18 or over on 3 October and a resident of Clarence ward. 
You also have to be a British or Irish citizen or a citizen of another EU state. Citizens of qualifying Commonwealth countries, including Cyprus and Malta, can also vote.
There are 58 seats on the Council and details about its current political composition can be found here: www.stalbans.gov.uk/council-and-democracy/political-structure/.
Contact for the media:
John McJannet,
Principal Communications Officer,
St Albans City and District Council,
Tel: 01727 296130,
E-mail: john.mcjannet@stalbans.gov.uk.