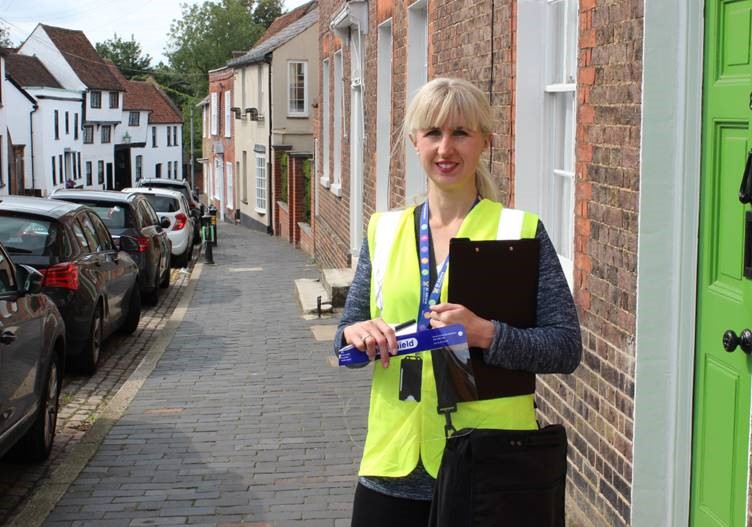 Electoral register canvassers to observe social distancing rules
Canvassers will maintain social distancing when they knock on doors in St Albans District to encourage residents to register to vote.
They will wear face shields or masks when approaching people while any canvasser who has COVID-19 symptoms will be stood down and recommended to take a test.
Canvassers will also ask residents if anyone in their household is isolating or has symptoms and will leave the doorstep immediately if that is the case.
They are taking these precautions during visits to around 5,000 households from now until the end of November.
These are households that have not returned a canvass form despite being asked to do so.
St Albans City and District Council carries out the canvass every year to keep the electoral register up to date.
The Council has estimated that no changes are needed at around 80% of the District's 60,000-plus properties.
These households were contacted by email or letter to confirm the register details and were also given instructions on what to do if changes are required.
The remaining 12,000 households where it was suspected there should be changes to the register were sent a canvass form with information on how to respond.
Canvassers are now visiting properties where there has been no response to raise awareness of the canvass.
They will not be able to take information on the doorstep this year because of the pandemic.
However, they will hand over a canvass form with a prepaid reply envelope and advise residents how they can respond by post, online or – in some cases – by phone.
If there is no reply, the form will be posted through the letter box.
There are District and County Council elections next May as well as an election for Hertfordshire's Police and Crime Commissioner.
It is important that residents make sure they can vote. If their name is not on the register, they will not be entitled to do so.
Amanda Foley, Electoral Registration Officer for the District, said:
Canvassers will call at every property where there is likely to have been a change but there has been no response to our initial enquiries. We want to make sure people do not lose their vote.

This task is being carried out this year during the Covid-19 outbreak and that is very much on our minds.

Our canvassers will be taking a range of measures to ensure the safety of residents as well as themselves.
Anyone not registered to vote can do so online at https://www.gov.uk/register-to-vote. It only takes a few minutes to do so.
People who are added to canvass forms will be sent letters inviting them to register.
Residents who have questions can contact the elections' team by email at elections@stalbans.gov.uk or by telephoning 01727 819294. 
Picture: Electoral Services Manager Jo Bateman prepares for the Covid-19 secure canvass.
Media contact: John McJannet, Principal Communications Officer, St Albans City and District Council: 01727-819533;  john.mcjannet@stalbans.gov.uk