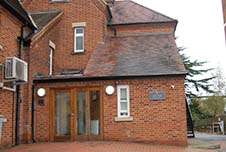 Extra help for rough sleepers during winter
Extra help for rough sleepers during the cold winter months in St Albans includes more beds at a homeless shelter.
Five additional beds funded by St Albans City and District Council are available at Open Door, Bricket Road.
The facility has 12 self-contained rooms and now a temporary dormitory has been set up in the reception area to provide the extra spaces.
These beds will be available every night until the end of March as part of the Council's Severe Weather Emergency Provision (SWEP).
In previous years, such extra beds were only brought into use when the temperature dropped below a certain level or snow fell.
Rough sleepers who use the SWEP offer will also be given advice on the support services available to them.
Open Door – which is managed by Hightown Housing Association - operates as a night shelter and as a daytime drop-in for vulnerable people in the District. It offers guidance on housing, health and other issues.
There is access to computers and people can undertake educational and training courses on healthcare, IT and basic life skills.
Both the Council and Open Door work to support those living on the streets through the Rough Sleeping Steering Group for St Albans.  
Local churches, represented on the group, are planning to provide further beds in the event that Open Door reaches its capacity. 
Other organisations involved on the steering group include Hightown and the homeless charities Centre 33 and Emmaus.
The Council has also applied to the Government's Cold Weather Fund to support the cost of the additional beds and other expenses such as new clothing.
Councillor Jacqui Taylor, Portfolio Holder for Housing, Inclusion and Protection, said:
Making sure that the extra beds are available throughout the winter is a progressive step. 

I am delighted we are committed to offering rough sleepers this help every winter night. In the past, it was only provided during snow falls or when the feel-like temperature was forecast to drop below freezing point for three days in a row.

This is a major improvement and we are working closely with charities, housing groups and other partners to see what additional measures we can introduce to deal with the complex challenges of rough sleeping and homelessness.

We will closely monitor events to see what more can be done and I am hopeful that our bid for more funding will be successful as we have a very strong case.
On World Homeless Day last month, the Council launched an initiative to help rough sleepers take a new direction in life.
Housing First is a programme run by Hightown on behalf of the Council and Dacorum Borough Council.
It is financed by a £100,000 Government grant and the aim is to support eight to twelve rough sleepers from the District and Dacorum and give them a fresh start, including a place of their own.
Two specialist support workers have been recruited as part of the 12-month pilot scheme to engage rough sleepers on the streets.
Concerns about rough sleepers in the District can be reported to Open Door on 01727-859113, opendoorstalbans@hightownha.org.uk or to the StreetLink website: https://www.streetlink.org.uk/
A description of the individual and the location should be included.
Councillor contact:
Councillor Jacqui Taylor,
Portfolio Holder for Housing,
Inclusion and Protection
Email: cllr.j.taylor@stalbans.gov.uk
Tel: 07971 906343.
Media contact:
John McJannet,
Principal Communications Officer,
St Albans City and District Council
Tel: 01727-819533
Email: john.mcjannet@stalbans.gov.uk.