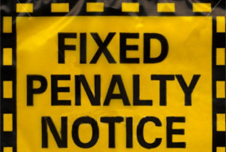 Five fly-tippers hit by new on-the-spot fines
Five fly-tippers in the St Albans District have been issued with Fixed Penalty Notices (FPNs) since the new "on-the-spot" fines were introduced.
All of the people involved admitted the offence and paid the fines at the discounted rate of £300 given for early payments. The full rate is £400.
One offender was caught after dumping a bicycle, wash basket and a bag of discarded fabrics in the Ashley ward of St Albans.
Two of the other offences were carried out in the Clarence ward and one each in London Colney and Marshalswick North. 
FPNs for fly-tipping were introduced by St Albans City and District Council in February following an investigation into their likely effectiveness.
They can be issued by authorised Council officers for small-scale fly-tipping if the person concerned admits the offence and is a first-time offender.
An update on the introduction of FPNs was given to a meeting of the Council's Cabinet on Thursday 21 December. 
Cabinet accepted the report's conclusion that the issuing of FPNs had been "successful and proportionate to the level of the offence".
Small-scale offenders can now be dealt with swiftly with officers no longer having to spend valuable time preparing cases for the Magistrates' Court. This has allowed them to focus on larger scale fly-tipping investigations.
Incidents of fly-tipping across the District have been declining over the past year. For example, there were just under 100 incidents reported to the Council in September compared to more than 160 in the same month last year.
Councillor Daniel Chichester-Miles, Portfolio Holder for the Environment, said: "Fly-tipping has been a growing problem nationwide and we have been determined to clamp down on it in the St Albans District.
"FPNs were introduced only after a very detailed investigation and I am delighted that they have had an immediate impact and, perhaps, contributed to the reduction in the number of fly-tips.
"Flytipping is a blight on the District and a significant cost to the Council for clearing up.
"Potential offenders will no doubt be deterred when they understand the likely consequences.
"We will continue to monitor the effectiveness of FPNs and together with our partners look at other ways of combating fly-tippers in a robust way."
Councillor contact:
Cllr Daniel Chichester-Miles, Environmental Portfolio Holder for St Albans City and District Council
Tel: 01727 819281
Email: cllr.d.chichester-miles@stalbans.gov.uk 
Contact for the media: 
John McJannet, Principal Communications Officer, St Albans City & District Council 
Tel: 01727 296130; e-mail: john.mcjannet@stalbans.gov.uk