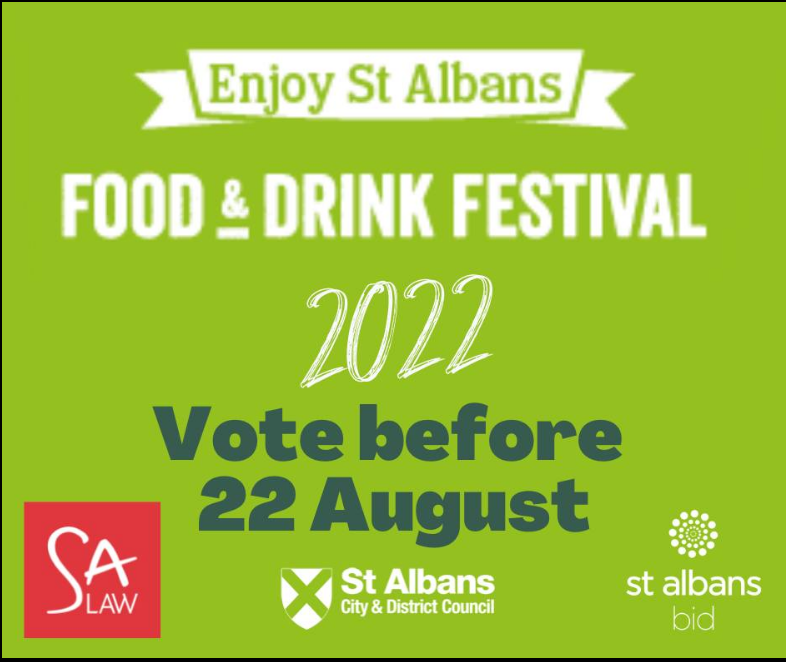 Food and Drink Festival Awards – Vote for Your Favourites
Residents are urged to vote for their favourite pub, restaurant, cafe and food producer in this year's Enjoy St Albans Food and Drink Festival Awards.
More than 150 businesses from across the District have been nominated in seven categories.
Now people can vote for their favourites with the top three in each category being shortlisted when voting closes on Monday 22 August.
A judging panel from the Festival's steering committee will decide the overall winners after making surprise visits to the venues on the shortlist.
They will mark them according to criteria such as product quality, customer service and atmosphere.
The results will be announced at an awards ceremony on Monday 3 October.
The Food and Drink Festival, now in its 15th year, is organised by St Albans City and District Council with the help of the steering group.
You can vote for you favourites here and can also nominate for the Kate D'Arcy Award for an individual who has provided outstanding customer service.
Councillor Danny Clare, Lead Councillor for Events, said:
We are fortunate to have such an amazing range of pubs, restaurants, cafes and other venues in the District.

These awards give recognition to the businesses and individuals who have worked so hard to make St Albans such a wonderful place for dining and eating out.

They all deserve our support for battling through the many challenges of the pandemic and I urge people to take a couple of minutes to vote for their favourites.

If you're unsure of who to vote for, get out and pay them a visit. With so many wonderful local businesses in St Albans, it's always a tough call.

The awards evening is one of the highlights of the St Albans Food and Drink Festival and I am looking forward to seeing the winners unveiled.
The categories are restaurant of the year, best pub or bar, best café, best food and drink shop or market stall, best takeaway or street food, best local producer and best newcomer.
Residents will be able to experience the best of the District's food scene during the Festival which runs throughout September.
One of the highlights is the St Albans Feastival, on Sunday 25 September, when the City Centre is closed to traffic from noon to 6pm.
More than 12,000 people are expected and attractions will include more than 70 food and drink stalls, pop-up restaurants and bars, cookery demonstrations and live music.
One exciting addition this year is a new cooking competition which is open to the whole community. More details about this and other Festival events will appear here in the coming weeks: https://www.enjoystalbans.com/foodanddrink.
Councillor contact: Danny Clare, Vice-Chair of the Regeneration and Business Committee and Lead Cllr for Events: cllr.d.clare@councillor.stalbans.gov.uk, 07414 585888.
Contact for the media:  John McJannet, Principal Communications Officer: 01727 819533; john.mcjannet@stalbans.gov.uk.