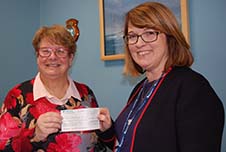 Former Mayor raises £11,000-plus for charity
Former St Albans Mayor Councillor Rosemary Farmer raised more than £11,000 for charity during her year in office.
She handed over a cheque to Mind In Mid Herts Chief Executive Sharn Tomlinson after raising £10,500 for them.
Cllr Farmer gained almost £1,000 for two other charities, the Open Door homeless shelter and Rennie Grove hospice.
Among the fund-raising activities she headed were the annual Mayor's Ball, the Civic Service, a wine tasting and quiz night.
Mind In Mid Herts provides mental health services for people aged 16 and over with an emphasis on prevention, social support and recovery.
Cllr Farmer, who was in office for the year to May 2019, said:
One of the most satisfying aspects of being Mayor was the opportunity to raise funds for a very good cause.

I chose Mind In Mid Herts as my main charity because I have been impressed with the very important work that they do in our community.
Sharn said:
We are so pleased with this wonderful donation from the Mayor and we are thrilled with all the awareness that the Mayor has given us.  

For a small charity, £10,500 is a huge amount of money and will enable us to continue and expand our out-reach program in St Albans.  

We currently offer a weekly drop in at the new Health Hub in the Civic Centre and a monthly drop in at the Vineyard Church that runs a local foodbank.  

This money will allow us to continue this work next year and to expand the out-reach to other places if needed.
Contact for the Mayor's office: 
Alison Orde,
the Mayor's Civic Officer
Tel: 01727 81954
Email: mayoralty@stalbans.gov.uk.
Media contact:
John McJannet,
Principal Communications Officer,
St Albans City and District Council
Tel: 01727-819533
Email: john.mcjannet@stalbans.gov.uk.