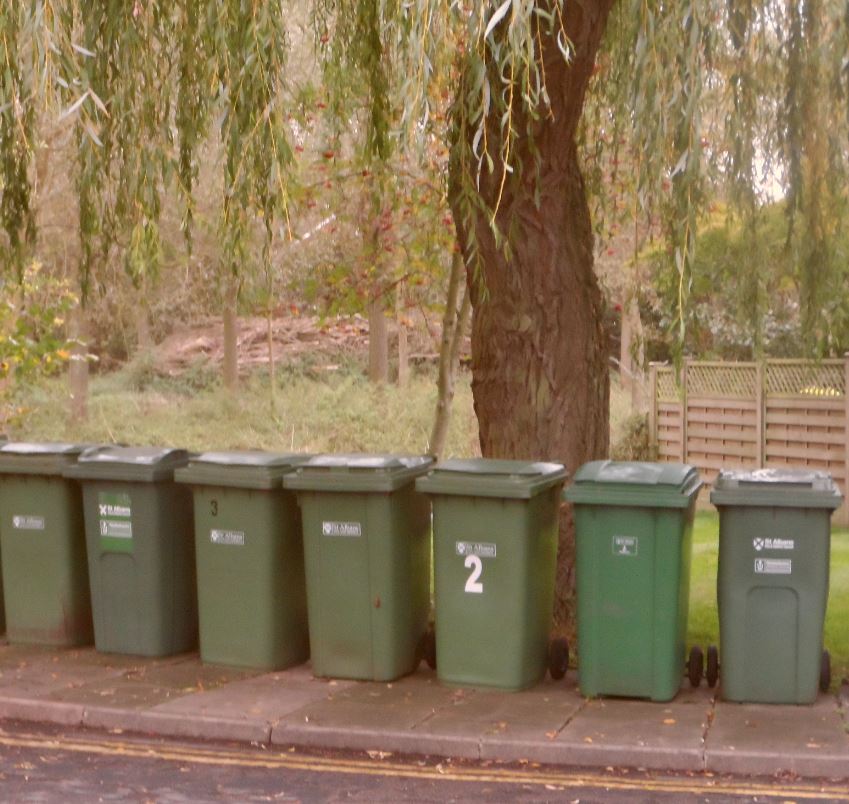 Garden waste collection policies should be reconsidered, Council Committee says
Aspects of a proposed charge for garden waste collection in St Albans District should be reconsidered, a Council Committee has said.
St Albans City and District Council announced last November that it planned to start charging for the service from the summer of this year.
The move is in response to the adverse impact of the COVID-19 pandemic on the Council's finances.
Under the plans, households would be asked for an annual payment of £45 to have a green wheeled bin or reusable sacks emptied, the equivalent of about 87p a week.
Other local authorities across the country – including several in Hertfordshire - already charge for the service with Government legislation allowing them to do so.
The proposals were considered by the Council's Community, Environment and Sport Scrutiny Committee at its meeting on Thursday 14 January.
Members voted by a majority to ask the Council's Cabinet – its decision-making body – to revisit aspects of the plans.
In particular, the Committee recommended that Cabinet should:
Consider whether the charge was fair on elderly, disabled and low income households;
Investigate whether the charge could adversely impact the amount of money it receives from a county-wide recycling scheme.
Devise plans for dealing with any green bins no longer wanted by households who opt out of the collection;
Set out how it will deal with any increase in leaves on pavements and roads if such households no longer swept them up.
Cllr  Annie Brewster, the Committee's Chair, said:
The Scrutiny Committee understood that a charge for the fortnightly garden waste collections is one way of trying to mitigate for some of the losses the public health emergency has put on Council finances.

Some other Councils already charge, although Central Bedfordshire Council, following public consultation, decided against such a move.

After a lively discussion, a majority of Councillors were in favour of the Council's Cabinet reconsidering aspects of these plans before they are implemented.

In particular, there was concern that although many members of our community will be able to afford the charge, those on low incomes could struggle with an additional expense at this time.

There was also some concern that people who opt out of the charge may put garden material into their brown waste bin, reducing the amount of money the Council receives from a recycling scheme. In addition, those residents choosing not to join the scheme would still be expected to store their green bins on their property.

These are among the issues that we have asked Cabinet to revisit and report back to us with their findings. I hope that they do so and that the policy of charging for garden waste collections is thoroughly examined.
Councillor contact: Cllr Annie Brewster, Chair of Community, Environment and Sport Scrutiny Committee: 01438 832255, cllr.a.brewster@stalbans.gov.uk.
Media contact: John McJannet, Principal Communications Officer: 01727-819533;  john.mcjannet@stalbans.gov.uk.