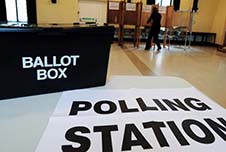 General Election Information
A total of 73,721 people are eligible to vote in the St Albans Parliamentary constituency at next week's General Election.
And 76,321 can do so in the Hitchin and Harpenden constituency with the country going to the polls on Thursday 12 December.
The deadline to register to vote was midnight on Tuesday 26 November.
Some 13,757 postal votes have been issued to voters in the St Albans constituency while the figure for Hitchin and Harpenden is 15,715.
The deadline for applications for a proxy vote was 5pm on Wednesday 4 December although it is still possible to apply for an emergency one until 5pm on polling day.
A proxy vote is where someone votes on someone else's behalf. To apply now, there has to be a good reason such as illness.
Those voting in person on the day will do so at one of 51 polling stations in the St Albans constituency or one of 60 in the Hitchin and Harpenden constituency.
There are changes to four of the usual polling stations in St Albans: St Peter's School is replaced by the Methodist Church Hall, Marlborough Road.
Aboyne Lodge School is replaced by the Jubilee Centre, Catherine Street, and St Michael's Memorial hall by a mobile polling station at the Verulamium Museum car park.
The United Reformed Church in West Riding, Bricket Wood, is replaced by St Luke's Church, The Crescent, Bricket Wood.
Poll cards sent to voters affected by the changes contained details of the new venues.
The count for both constituencies will take place at the Batchwood Sports Centre, St Albans, after the polls close at 10pm. The results are unlikely to be declared around 3.30am the following day.
Michael Lovelady, the Acting Returning Officer for St Albans City and District, said:
The General Election is very close now and final preparations are well underway. It is a major organisational challenge, but I am confident we are equal to it.

Around 150,000 people in the two constituencies are eligible to vote and I urge them all to do so and have their say on who should represent them in Parliament.
Here is some essential information about voting procedures at the General Election: 
You can only vote at the polling station stated on your poll card.  The card will have been sent to the address at which you are registered; 
If you are in a queue at your polling station at 10pm, you will still be able to vote. However, you will not be able to do so if you arrive after 10pm; 
If you have not posted a postal vote before polling day, you can take it to your local polling station and hand it in; 
If you are suddenly unable to vote in person, then you may be entitled to appoint an emergency proxy. You can apply for this up until 5pm on polling day by contacting the Council's electoral services team; 
You are advised to take your poll card with you to vote. If you do not have it, you will still be able to vote. You will need to tell the polling station staff your name and address and they will check if you are on the electoral register; 
If you are disabled, you can ask the polling station staff for help to mark the ballot paper. Someone else, such as a relative or support worker, is also entitled to help; 
Anyone with a visual impairment can ask for a large print copy of the ballot paper, but cannot vote on this; and 
If you make a mistake on your ballot paper, you can return it to polling station staff who will issue you with a replacement paper. This is provided you have not put your original in the ballot box. 
The Council's Electoral Services team can be contacted on 01727 819294 or email elections@stalbans.gov.uk. 
  
Further information about voting is available on the Electoral Commission's guide to voters, www.yourvotematters.co.uk . A proxy vote application form can be downloaded from this site or obtained from the electoral services team.
A list of the candidates for the two constituencies along with other information can be viewed here: bit.ly/389NmXt.
Contact for the media:
John McJannet,
Principal Communications Officer,
St Albans City District Council
Tel: 01727 819533
Email: john.mcjannet@stalbans.gov.uk. 
---
Note:
To vote at the UK General Election you must be registered to vote and:
18 years of age or over on polling day;
be a British, Irish or qualifying Commonwealth citizen;
be resident at an address in the UK (or a UK citizen living abroad who has been registered to vote in the UK in the last 15 years); and
not be legally excluded from voting.
The following cannot vote:
members of the House of Lords;
EU citizens (other than UK, Republic of Ireland, Cyprus and Malta) resident in the UK;
anyone other than British, Irish and qualifying Commonwealth citizens;
convicted persons detained in pursuance of their sentences, excluding; contempt of court (though remand prisoners, unconvicted prisoners and civil prisoners can vote if they are on the electoral register); and
anyone found guilty within the previous five years of corrupt or illegal practices in connection with an election.