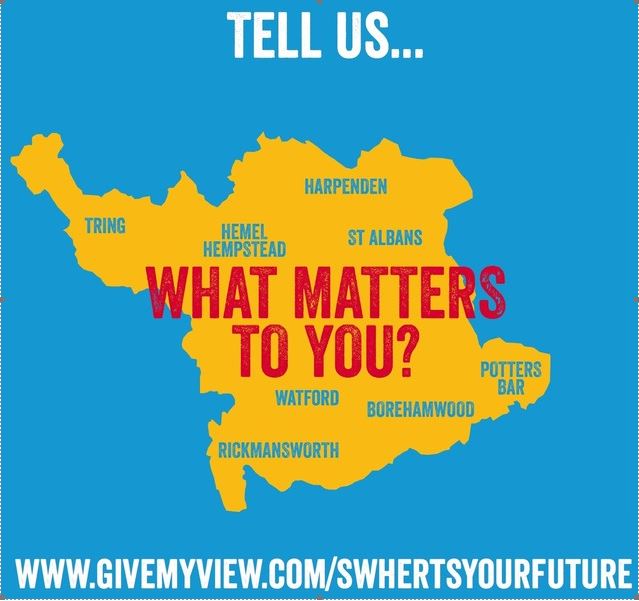 Get involved and have your say on life in South West Hertfordshire
More than 2,500 people have so far given their views on what they like about life in their part of South West Hertfordshire, what matters to them and what could be better.
If you live, study or work in South West Hertfordshire, the six councils which cover the area are keen to know what matters to you. 
Dacorum, Hertsmere, Hertfordshire County, St Albans City and District, Three Rivers and Watford are all working together to consider what is important to the people of South West Herts to help to create even greater places to live, work and play, supported by the right infrastructure. A better public transport network, housing, jobs, improved healthcare, schools and greater access to education, and tackling climate change have all been part of the responses received to date.
The SW Herts, Your Future poll was launched earlier this month so that the councils can hear what the people of South West Herts like about the area now and what they feel is important when shaping the future.
The poll can be accessed at: https://www.givemyview.com/swhertsyourfuture/polls
Cllr Jamie Day, Portfolio Holder for Planning at St Albans City and District Council said:
"We'd like to encourage as many local people as possible to take part and tell us what they think is most important when it comes to shaping this part of Hertfordshire over the long term."
Derrick Ashley, Hertfordshire County Council's Cabinet Member for Growth, Infrastructure, Planning and the Economy, said:
"If you live in South West Hertfordshire, this is an important opportunity to tell your councils what you think about living in your area, what you value most and what you would like to see improved.
"To have received over 2,500 responses already since the poll was launched is fantastic. It's great to see a large number of young people getting involved, especially as we are thinking about the needs of future generations. This is all about what we can do to make life even better over the next 30 years and beyond."
Notes to Editors:
SW Herts is one of only a small number of councils in the UK working together in this way. By considering the longer-term future of a bigger area as whole, the opportunities for the future are greater.

SW Herts, Your Future

does not replace Local Plans. Dacorum, Hertsmere, St Albans City & District, Three Rivers and Watford are still required to prepare their own plans.

The poll is the first opportunity for residents in South West Hertfordshire to get involved in the SW Herts, Your Future project.
For further information, please contact:

Philippa Curran, Iceni,

​

020 8049 6973; 07795 614 307;

PCurran@iceniprojects.com

.

St Albans City and District Council contact:  Claire Wainwright, Policy and Communications Manager, 01727 819572; claire.wainwright@stalbans.gov.uk