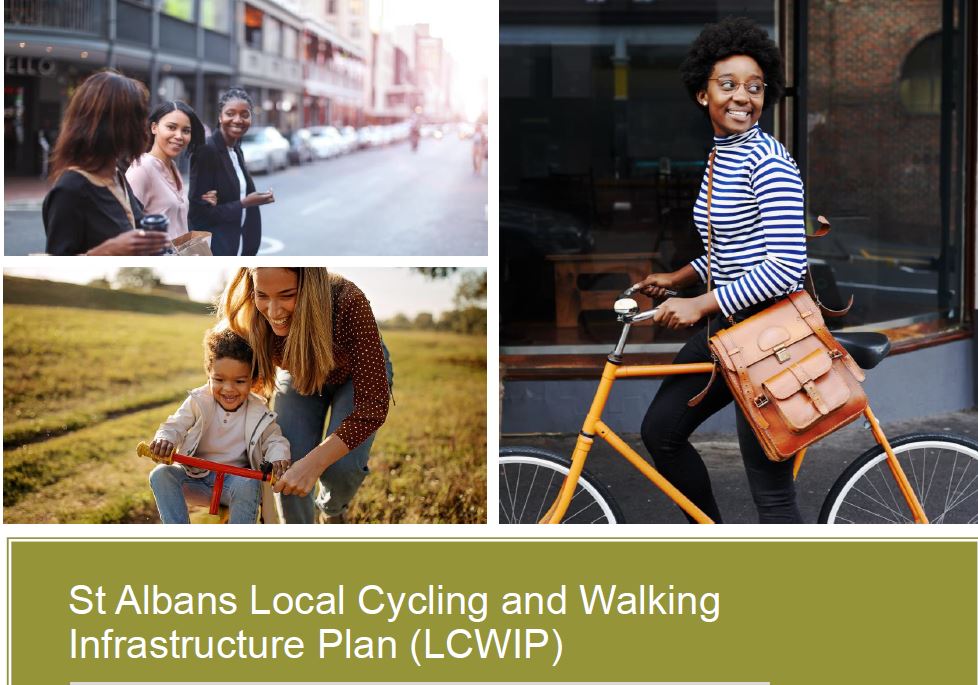 Give your views on a Cycling and Walking Infrastructure Plan for St Albans District
Residents, businesses and community groups can help shape a Local Cycling and Walking Infrastructure Plan (LCWIP) for St Albans District.
Hertfordshire County Council (HCC), the highways authority, is drawing up the Plan in partnership with St Albans City and District Council (SADC).
Now HCC and SADC want to hear the views of the people who will be most affected and stand to benefit from the proposals.
They are being urged to take part in a public consultation into the LCWIP proposals which are the result of a technical study of the issues involved.
The LCWIP aims to make walking and cycling the natural choice for shorter journeys or part of longer journeys.
The technical report identifies key cycling and walking routes in the District where the potential demand is greatest and where changes will most benefit residents.
A number of improvements have been put forward and costed for 72 priority routes across the district.
Enhancements would include new or improved crossings, footway improvements, junction upgrades and traffic calming measures.
The District has one of the highest levels of cycling and walking in Hertfordshire, but 60% of journeys within the District are still made by car.
A travel survey has shown there is a strong desire among residents for improved walking and cycling routes to support people who want to choose eco-friendly transport.
Councillor Phil Bibby, HCC's Executive Member for Highways and Transport, said:
We want cycling and walking to be an easy and convenient choice for people using and visiting our city centres. Receiving feedback on our proposed cycling and walking plan for St Albans is key to helping develop a framework that provides a greener and safer way to travel.

Our aim is to offer all residents a cleaner, greener, healthier Hertfordshire. By increasing access to cycling and walking initiatives, we'll help to improve health and air quality, as well as reducing traffic congestion.
You can read the technical report, study maps of the proposals, give your comments and respond to a short survey here: www.hertfordshire.gov.uk/lcwip-StAlbans.
The consultation starts on Tuesday 7 February and runs until Monday 20 March. You can also email comments to SADC.LCWIP@hertfordshire.gov.uk.
Councillor Chris White, Leader of St Albans City and District Council, said:
This is an important document aimed at improving some of the District's cycling and walking routes.

We are committed to tackling climate change and encouraging more journeys by walking and cycling rather than by car is one of the many actions we are taking to achieve that.
Media Contact: John McJannet, Principal Communications Officer, 01727 819533, john.mcjannet@stalbans.gov.uk.