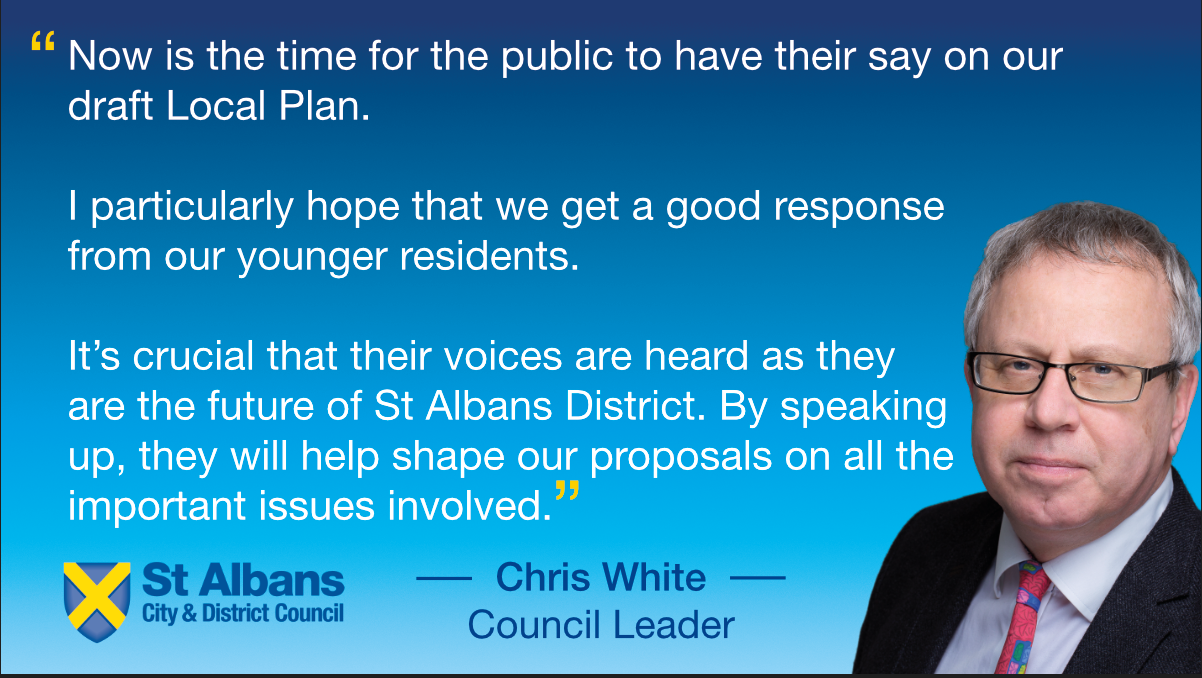 Give your views on a draft Local Plan for St Albans District
A public consultation on a draft Local Plan for St Albans District is to be launched – with residents, community groups and businesses all urged to give their views.
St Albans City and District Council is producing a Local Plan (LP) - a blueprint for the area's built environment that includes land for future business, infrastructure and housing developments.
A commitment to tackle the climate emergency is at the heart of the LP with new developments required to be sustainable and improve biodiversity.
Other priorities are the delivery of more social housing, jobs, schools, GP surgeries, public transport, cycle paths, play areas and parks.
The LP is also designed to grow the local economy, providing thousands of high-quality jobs, and promote equality, inclusion and fairness.
Members of the Council's Planning Policy and Climate Committee agreed to the consultation at its meeting on Monday 10 July.
The consultation opens on Wednesday 12 July and runs for more than 10 weeks until Tuesday 25 September.
A series of exhibitions takes place at venues around the District during September with Council officers on hand to answer questions.
Spatial planning officers will analyse the feedback and report their findings to the Committee at a future date, making recommendations for any changes to the LP before a further consultation.
Councillor Chris White, the Council Leader and the Committee's Chair, said:
Now is the time for the public to have their say.

It is vital that we hear from people right across the community and I particularly hope that we get a good response from our younger residents.

It's crucial that their voices are heard as they are the future of St Albans District and  the Local Plan maps out the years ahead until 2041. By speaking up, they will help shape our proposals on all the important issues involved.
The Committee was advised that the Local Plan has to comply in full with Government legislation and guidance, otherwise it will fail to pass an examination by independent planning inspectors.
A review of the Council's planning policies by the East of England Local Government Association recently highlighted this requirement.
Cllr White said:
As community leaders, we are empowered to make many key decisions as we prepare a Local Plan.

However, we are bounded by Government rules and must comply with those whether we agree with them or not. As the review makes clear, our Local Plan will be judged unsound and fail if we do not follow the guidelines.

The consequence of such a failure is that we lose control over the future development of the District and hand it over lock, stock and barrel to central Government. That would be a betrayal of the people of St Albans.

They will want their locally-elected representatives who have a real feel for the District to control where houses and business are built, and very importantly, where they are not built.
One Government requirement is that the Council must allow for around 15,000 new homes over the next 17 years. Land for around 5,000 houses has already been found with land now needing to be provided for the remainder.
Cllr White added:
It may be that during our Local Plan process, the Government will review its standard method of calculating housing need, resulting in a lower figure for the District.

I have challenged them to do so and we will adapt our draft Local Plan if that happens. In the meantime, it would be reckless of us not to follow the current guidelines.
Technical studies determined the land most suitable for development. This includes 12 broad locations each providing 250 or more homes and 90 large, medium or small sites each providing between five and 249.
New residential areas will be supported by between three to four new secondary schools, eight to 10 new primary schools, a minimum 25,000 new trees and new country parks which will be in total about ten times the size of Verulamium Park.
Up to 20,000 high-quality jobs will also be created along with 30 kilometres of new or enhanced cycle paths. There will be roughly 1.5 times more new or newly protected public green space as development land, the equivalent of 2,000-plus football pitches.
Anyone who wants to take part in what is formally called the Regulation 18 consultation can find a link to it here.
A further consultation on the draft LP that emerges from this process is due to take place from July to September 2024. This is known as the Regulation 19 consultation and could result in further changes.
Following that, the final draft that is agreed is scheduled to be submitted to a Government-appointed Planning Inspector for examination in December 2024. If it is approved, it may be adopted by the Council around December 2025.
Cllr White added:
We are anticipating making major changes to the Local Plan before it is submitted, particularly following this first consultation.

This is because we will be responsive to the feedback we receive from residents, community groups, organisations like Hertfordshire County Council and changes in Government policies. This is an evolving document which our community will have a major role in shaping.
EVENTS, ROADSHOWS, EXHIBITIONS
Local Plan exhibitions will take place at venues around the District on the following dates:
Colney Heath Village Hall, Saturday 2 September, 2pm - 8pm.
Redbourn Parish Centre, Monday 4 September, 2pm - 8pm.
The Parish Centre, Bricket Wood, Wednesday 6 September, 2pm - 8pm.
Wheathampstead Memorial Hall, Thursday 7 September, 2pm - 8pm.
St Albans City and District Council, The Civic Centre, Monday 11 September, 2pm - 8pm.
Marshalswick Community Centre, Tuesday 12 September, 2pm - 8pm.
The Restaurant, Rothamsted Enterprises, Harpenden Wednesday 13 September, 2pm - 8pm.
Caledon Community Centre, London Colney, Thursday 14 September, 2pm - 8pm.
LIBRARY ACCESS
Copies of the Local Plan will also be available at the following libraries throughout the consultation period: St Albans; Marshalswick; London Colney Community; Harpenden; Redbourn; Wheathampstead; Hemel Hempstead; Leverstock Green Community; and Radlett.
Media Contact: John McJannet, Principal Communications Officer, 01727 819533, john.mcjannet@stalbans.gov.uk