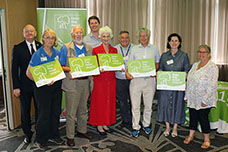 Green Flag awards for five local parks
Verulamium Park, Clarence Park, Bricket Wood Common, Sopwell Nunnery, and Hatfield Road Cemetery have all been recognised as among the very best parks and green spaces in the country.  All have won Green Flag Awards, and Verulamium Park has also been awarded a Green Heritage Site Award.
 
A Green Flag Award is a sign to the public that the space boasts the highest possible environmental standards, is beautifully maintained and has excellent visitor facilities.
Cllr Anthony Rowlands, Portfolio Holder for Community, Leisure and Sport said:
I am pleased and delighted that five of our parks and green spaces have received a coveted Green Flag Award.  We are particularly proud to regain a Green Flag Award for Clarence Park. This is testament to the work our team, along with our grounds maintenance contractor John O'Conner, have put in to bring Clarence Park back to its previous high standard.

Both a Green Flag and a Green Heritage Award for Verulamium Park is wonderful news.  We are not complacent, however, and will be looking to make improvements in the years ahead. We are working with the Environment Agency and other partners to revitalise the River Ver and enhance the water quality of the artificial lakes in Verulamium Park.
 
Councillor Contact
Cllr Anthony Rowlands,
Portfolio Holder for Community,
Leisure and Sport at St Albans City and District Council 
Email: cllr.a.rowlands@stalbans.gov.uk
Tel: 07761 232064.
Media Contact
Claire Wainwright,
Executive and Communications Manager,
St Albans City and District Council
Email: claire.wainwright@stalbans.gov.uk
Tel: 01727 819572.
---
Notes for editors:
The Green Flag Awards Scheme (http://greenflagaward.org/) is run by the environmental charity Keep Britain Tidy, under licence from the Ministry of Housing, Communities and Local Government, in partnership with Keep Scotland Beautiful, Keep Wales Tidy and Keep Northern Ireland Beautiful.
Any green space that is freely accessible to the public is eligible to enter for a Green Flag Award.  Awards are given on an annual basis and winners must apply each year to renew their Green Flag Award status.  Green Heritage Site Accreditation is judged on the treatment of the site's historic features and the standard of conservation. 
To contact the Keep Britain Tidy press office:
Helen Bingham
Tel: 01942 612617
Email: helen.bingham@keepbritaintidy.org
Keep Britain Tidy
Mobile: 07768 880016