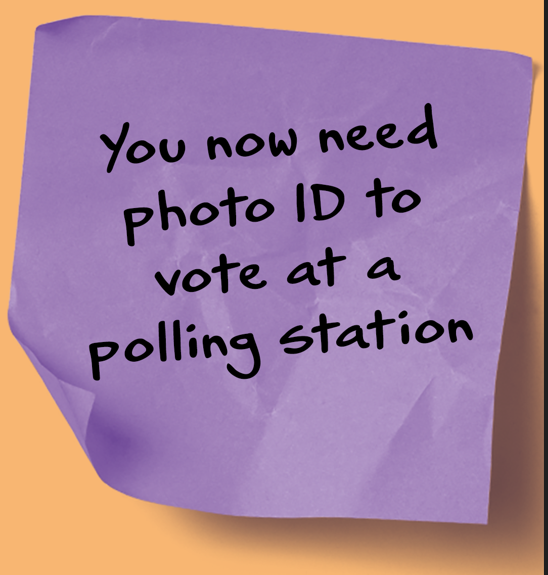 Have your say on Thursday 4 May – and don't forget to bring photo ID
Voters going to the polls on Thursday 4 May for important local elections should remember to bring approved photo ID.
Eighteen of the 56 seats on St Albans City and District Council are up for election as are seats on the area's Parish and Town Councils.
For the first time, voters are required to present photo ID at polling stations in order to vote.
The new rule is intended to prevent voter fraud and has been described as the biggest change to in-person voting for 150 years.
Approved ID includes a passport or driver's licence, current or expired, and Government-funded bus passes for older or disabled people.
A PASS card bearing the Proof of Age Standards Scheme hologram can also be used. A full list of approved photo ID is available on the Electoral Commission's website here.
Greeters will be on duty at polling station entrances across the District to remind people to have their photo ID ready and to deal with any related issues.
Anyone who cannot provide approved photo ID will not be able to vote.
Amanda Foley, the District's Returning Officer, said:
It is important residents use their vote on Thursday 4 May and have their say. Our District, Parish and Town Councils have a wide range of responsibilities, including social housing, planning, green spaces and car parking, that impact on people's lives.

This year, the elections will seem rather different as every voter will have to show approved photo ID before being issued with a ballot paper at a polling station.

I would urge everyone to check they have photo ID with them before setting off to vote. It is something we all need to get used to with the new rule covering General Elections from October.

People should also check their poll card to make sure they know the location of their polling station.

You do not need your poll card to vote, but we do encourage you to bring it with you to make the process quicker and more efficient.

Voters who have opted to vote by post must return their postal ballot pack by 10pm on the day of the election if they haven't done so already. They can hand it in at their polling station if there is no time to return it by post.
Emergency Proxy Vote
Residents can in certain circumstances apply for an emergency proxy vote up to 5pm on polling day.
This may be because of a sudden illness, for example, which has prevented them from visiting a polling station.
A proxy vote allows the voter to nominate someone they trust to vote on their behalf.
To apply for an emergency proxy vote, you should contact the Council's electoral services team at elections@stalbans.gov.uk or 01727 819294.
Results
Votes will be counted on Friday 5 May and the results will be announced from around lunchtime on the Council's website.
A list of the candidates who are standing is available here.
The current political composition of St Albans City and District Council is: Liberal Democrats, 49 Councillors; Conservatives, 4; Independent, 1; and Green Party, 1.
There is one vacant seat that will be subject to a by-election at a future date.
Parish and Town Council Elections
The Parish and Town Councils holding contested elections are Colney Heath, Harpenden Town, London Colney, Sandridge and St Stephen. 
A full list of the candidates can be found here.
Candidates are unopposed in the London Colney North West ward of London Colney Parish Council; the Jersey Farm and Sandridge Village wards of Sandridge Parish Council; and the Bricket Wood and Park Street wards of St Stephen Parish Council.
Candidates for Harpenden Rural, Redbourn, St Michael and Wheathampstead Parish Councils are all unopposed.
A full list of unopposed candidates can be found here.
No one stood for election in the Beech Bottom and Marshalswick West wards of Sandridge Parish Council. Councillors for those wards and other vacant seats are expected to be co-opted by the Parish and Town Councils involved.
More information about the elections can be found on St Albans City and District Council's website here.
Contact for the media: John McJannet, Principal Communications Officer: 01727-819533;  john.mcjannet@stalbans.gov.uk.