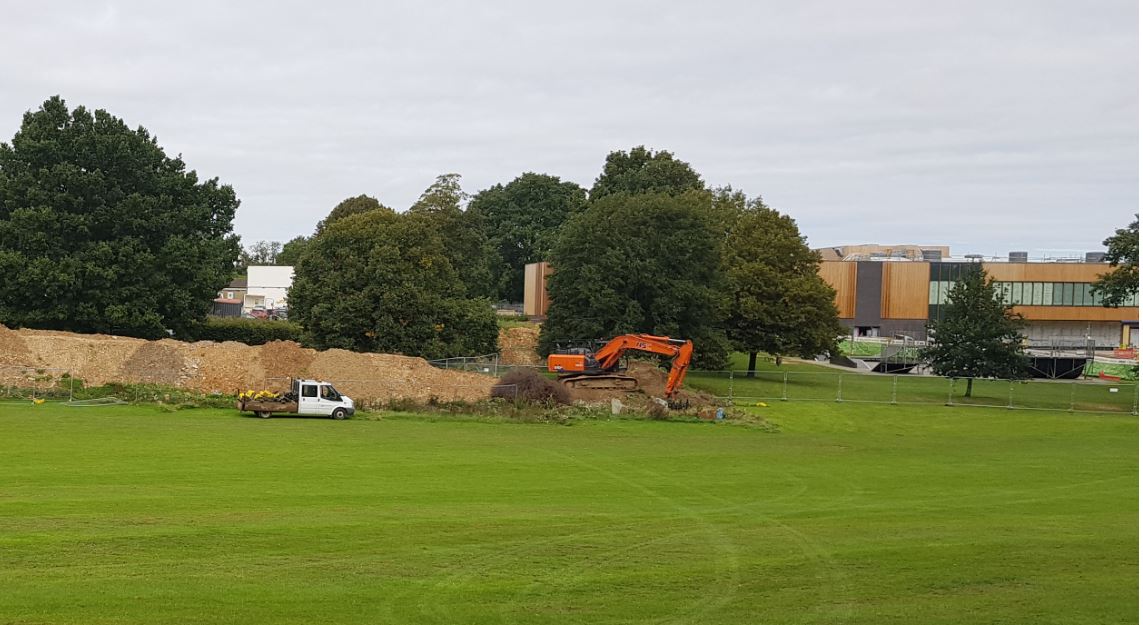 Heavy rain delays spoil works at Rothamsted Park
Work to level an events area in Harpenden's Rothamsted Park with spoil from the nearby leisure centre development has been delayed by heavy rainfall.
The work, which began in September, was only a fortnight away from completion when torrential rain saturated the spoil.
Since then there have been further downpours and it is now unlikely that work will restart before the early spring when drier conditions are expected.
This will allow for the final layer of topsoil to be laid down and the area reseeded in time for the growing season.
The area will remain fenced off until the late summer of next year while the grass is re-established.
Ownership of the park is in the process of being transferred from St Albans City Council (SADC), which is carrying out the work, to Harpenden Town Council.
Councillor Robert Donald, SADC's Portfolio Holder for Commercial, Development and Wellbeing, said:
It is very unfortunate that this work has been held up, but I am sure residents will understand that it has been due to weather events beyond our control.

Our contractor Willmott Dixon had almost finished the project when the heavens opened, causing flooding in some areas of Hertfordshire.

We have experienced heavy rainfall ever since, meaning the remaining spoil has not dried out, and it will now be March before the job can be completed.

However, I am sure that the wait will be worthwhile as residents will not only get back a much-improved park, but we will also be opening a new leisure centre as soon as coronavirus restrictions allow and a culture centre as well in the late spring.

These superb new facilities, together with the rejuvenated park, will be transformational for the Harpenden area.
Around 10,000 cubic metres of subsoil was excavated during the construction of the new leisure centre on the edge of the park.
Plans to remove the material to a landfill site were abandoned in favour of a more eco-friendly solution to retain the soil within the park, using it to contour a football pitch and the surrounding area.
This avoided the need for around 1,400 lorry journeys back and forth to the landfill site.
The Council is creating new leisure and cultural centres in the park at the cost of around £20 million.
The leisure centre – which includes two pools, a state-of-the-art gym, sports hall and exercise studios - was due to open on Monday 4 January. This has been postponed because of new COVID-19 restrictions.
The culture centre – which includes a theatre, exhibition space and bar – is on schedule to open in the late spring.
Councillor contact: Cllr Robert Donald, Portfolio Holder for Commercial, Development and Wellbeing: cllr.r.donald@stalbans.gov.uk, 01727 841647.
Contact for the media: John McJannet, Principal Communications Officer: 01727 819533,  john.mcjannet@stalbans.gov.uk.