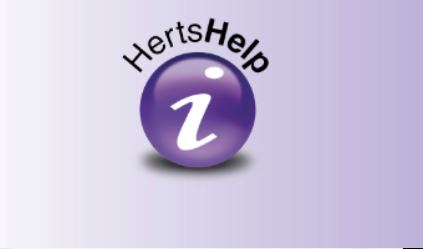 Help on hand to ensure no one in Hertfordshire goes hungry or cold this festive season
News Release from Hertfordshire County Council
Hertfordshire County Council is working in partnership with borough and district councils, local foodbanks and HertsHelp to ensure anyone who needs support with food or paying the bills this Christmas can get help.
Using funding provided from the Government's COVID-19 Winter Grant Scheme (WGS), which is also helping to deliver supermarket vouchers to children and young people entitled to free school meals, we will support families and individuals in need of a little extra help with food, essential items and household bills.
HertsHelp are on hand to offer advice and practical support to residents, which will be delivered through a range of local partners. Over £200,000 has been allocated to support Hertfordshire's foodbanks and other food poverty organisations, meaning that no one need go hungry this Christmas. Support is also available to help with gas and electricity bills for those who might be finding things a bit tough right now to make sure they can heat their home.
David Williams, Leader of Hertfordshire County Council, said:
2020 has been a year like no other, with so many people facing difficult personal and financial challenges. We want all our residents to know that help is available to those in need of a little extra support to stay warm and well this winter.

"We know that Christmas can be particularly hard for some, and this year many face additional pressures as a result of the ongoing impact of coronavirus. I'd urge anyone who may be finding it difficult to pay household bills or buy food to get in contact with HertsHelp today to see how we can help make things a little easier over the festive period.
Housing Benefit staff are in a good position to know when people are in hardship and can refer people on as shown below. The conditions that DWP have attached to the grant exclude help with rent or other housing costs but it may be that people affected by the benefit cap or other restrictions will have other pressures on their household as a result. Priority will be given to families with children, which is another stipulation of the grant (80% of spend) and of course there is only a fixed sum of money available, which has to be spent by March 31st 2021.
Residents who are worried about their finances, paying essential household bills or having enough food this winter can contact HertsHelp, email info@hertshelp.net, call 0300 123 4044 or visit www.hertshelp.net.