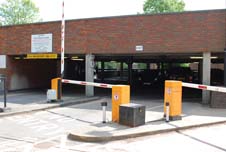 Help shape car parking services
Residents and businesses are being asked to help shape the future of car parking services in the St Albans District.
A public consultation into how the service should be provided is being held by St Albans City and District Council.
The Council owns many of the District's car parks and is also responsible for the enforcement of parking regulations on and off the roads.
It is intended to find out how people feel services can best ensure value for money, operate efficiently and meet demand effectively.
The consultation, which runs until Monday 30 April, is focused on two main issues:  the management and provision of car parks and enforcement.
Four ways of operating the service have been identified and include the Council running all services by itself or allowing specialist contractors to do so.
Alternatively, the Council could manage one of the two services, either car parks or enforcement, and outsource the other to a contractor.
To help people make an informed decision about their preferred way forward, financial figures for each of the four options have been predicted.
However, anyone taking part in the consultation is being asked to consider other factors.
To help them do so, an analysis of the strengths, weaknesses, opportunities and threats of each operating model has been provided.
These include factors such as the amount of control the Council would exercise over issues such as pricing or staff recruitment and training.
Anyone wanting to contribute to the consultation and find out more information can do so online at: bit.ly/2DFJFsh. (link content no longer available due to retirement of former website)
Once the feedback has been analysed, a report will be prepared for a cross-party task and finish group chaired by the Portfolio Holder for Business and the Community, Councillor Beric Read. 
It will make recommendations to the Council's Cabinet which will make the final decisions.
The existing arrangements, with the Council using contractors for enforcement and the management of a number of car parks, are due to end in October next year.
Councillor Read said:
Car parking is one of the major services the Council provides and a big issue for residents and businesses across the District.

Our current arrangements come to an end next year and we want to ensure that we can provide the most economic, efficient and effective services in the years ahead.

Over the next few years there may be unprecedented changes in technology and we need to be in a position to take advantage and adapt to that.

I urge everyone with an interest in this to take part in the consultation. We want to listen to what residents, businesses and community groups have to say before we make any decisions.
Councillor contact:
Councillor Beric Read, Portfolio Holder for Business and the Community for St Albans City and District Council. Tel: 07956 220264; e-mail: Cllr.B.Read@stalbans.gov.uk  
Contact for the media:
John McJannet, Principal Communications Officer, St Albans City & District Council
Tel: 01727 296130; e-mail: john.mcjannet@stalbans.gov.uk