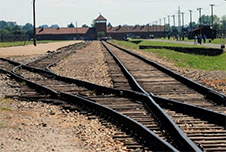 Holocaust Memorial Day service
St Albans Mayor Councillor Rosemary Farmer is to host a service to commemorate victims of the Holocaust and other genocides.
Residents are welcome to attend the annual event to mark Holocaust Memorial Day on Sunday 27 January.
The service will be addressed by local rabbis and feature moving stories about Holocaust survivors with candles being lit in memory of those who perished.
It will be held from 6pm in the St Albans City and District Council Chamber, the Civic Centre, St Peter's Street.
Holocaust Memorial Day is held every year on 27 January, the anniversary of the liberation of the Auschwitz-Birkenau concentration camp in 1945.
It is an occasion to remember the six million Jews murdered during the Holocaust, the millions of other people killed by the Nazis and later genocides in Cambodia, Rwanda and elsewhere. 
Cllr Farmer, Mayor of St Albans City and District, said:
Holocaust Memorial Day is an event for everyone, a time to reflect on what happened in the past and must not happen again in the future.

Our commemoration service, one of many thousands being held around the world, will be a very emotional and important occasion.

It is a way for our community to honour the millions of people who lost their lives. I am sure many residents will want to join us to show their opposition to prejudice and hatred.
Philip Nalpanis, a local resident, will be reading extracts from the letters of his family members who were caught up in the Holocaust.
There will be a suitable musical contribution from the St Albans-based New Stage Choir.
Following the service, there will be an opportunity to look at a display honouring the diverse heritage of the Jewish Community. 
This includes the work of a professional biographer who interviewed 12 Holocaust survivors and recorded their stories for future generations. 
Among them is Kitty Hart-Moxon OBE, a survivor of Auschwitz-Birkenau who later moved to England and devoted her life to raising awareness of the Holocaust.
Anyone wanting to attend the service should register beforehand by emailing mayoralty@stalbans.gov.uk or calling 01727 819544 by Wednesday 23 January. 
For more information about Holocaust Memorial Day, please see: www.hmd.org.uk/what-is-holocaust-memorial-day/.
Picture: the entrance to Auschwitz from www.auschwitz.org.
Contact for the Mayor's office:
Alison Orde, the Mayor's Civic Officer
Tel: 01727 819544
Email: mayoralty@stalbans.gov.uk
Contact for the media:
John McJannet,
Principal Communications Officer,
Tel: 01727-296130
Email: john.mcjannet@stalbans.gov.uk.