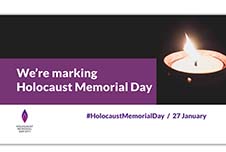 Holocaust Memorial Day Service
St Albans Mayor Councillor Janet Smith is to host a service to commemorate victims of the Holocaust and other genocides.
Residents are welcome to attend the annual event, provided they have registered beforehand, on Monday 27 January to mark Holocaust Memorial Day.
The service will be addressed by local Rabbis and feature moving stories about Holocaust survivors with candles being lit in memory of those who died. It will be held at 6.30pm at the Welcome Centre in St Albans Cathedral.
Holocaust Memorial Day is held every year on 27 January, the anniversary of the liberation of the Auschwitz-Birkenau concentration camp in 1945.
This year, the 75th anniversary of the liberation, has the theme of Stand Together – a call to "to stop division and the spread of hatred in our society".
The occasion will remember the six million Jews murdered during the Holocaust, the millions of other people killed by the Nazis and later genocides in Cambodia, Rwanda and elsewhere. 
Cllr Smith, Mayor of St Albans City and District, said:
Holocaust Memorial Day is for every member of our community. We will come together with people across the whole of the UK to learn more about the past and take action to create a safer future.

This year is the 75th anniversary of the liberation of the Nazis' most notorious extermination camp, and I'm sure many residents from many different backgrounds and walks of life will want to join me to show their opposition to prejudice and hatred.

We will bear witness for those who endured genocide and honour the survivors and all those whose lives were changed beyond recognition.
Following the service, there will be an opportunity to look at an Anne Frank exhibition that is being held at the Cathedral. This opens on Thursday 23 January and runs until Thursday 20 February.
It includes artefacts from Anne's life and the Holocaust, including a life-size replica of her bedroom in the secret annexe where she and her family hid for over two years in Amsterdam. For more information, including booking details, see: https://www.stalbanscathedral.org/anne-frank-you-exhibition.
Anyone wanting to attend the service must register beforehand by emailing mayoralty@stalbans.gov.uk or calling 01727 819544 by Friday 24 January. 
For more information about Holocaust Memorial Day, please see: www.hmd.org.uk/what-is-holocaust-memorial-day/.
---
Contact for the Mayor's office: 
Alison Orde, the Mayor's Civic Officer, 01727 819544, mayoralty@stalbans.gov.uk.
Contact for the media: 
John McJannet, Principal Communications Officer, 01727 819533, john.mcjannet@stalbans.gov.uk.