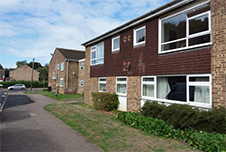 Homes England's £540,000 funding for Council housing
Homes England has awarded £540,000 to help finance the creation of 18 social housing properties in St Albans.
St Albans City and District Council applied for funding to the Government housing agency in May this year and has now been told the bid was successful.
The money will go towards the Council's £3.2 million project to redevelop Mereden Court sheltered housing block in Tavistock Avenue, Sopwell.
Work to refurbish the building is to start later this year and should be completed in the summer of next year. 
The 14 one-bedroom and four two-bedroom flats will be made available for rent to people on the Council's Housing Register.
Last year, Homes England awarded £720,000 to the Council for turning another sheltered accommodation block into affordable housing.
Wavell House, in Cell Barnes Lane, is to be demolished and 24 homes built for the over 55s. It is to be called Warner House.
Councillor Jacqui Taylor, Portfolio Holder for Housing, Inclusion and Protection, said:
We are delighted Homes England is supporting our latest project to provide much-needed social housing in our District. Their help which now totals more than £1.2 million is much appreciated.

Social housing is one of our major priorities and Homes England has recognised that we are committed to delivering high-quality homes for people in housing need.

When finished, this accommodation will provide much-needed homes for those waiting on our housing register, enabling them to stay in the District.
Homes England was founded in January last year to fund affordable housing across the country.
Carol Cairns Head of Home Ownership and Supply at Homes England said:
We work with our housing partners to deliver high quality, affordable homes in the areas where they're most needed. 

We are pleased to be supporting the council to develop Mereden Court and look forward to seeing these much-needed homes for people in St Albans take shape.
The transformation of Mereden Court and Wavell House is part of an ambitious Council programme to redevelop sheltered housing blocks that are showing signs of age.
Betty Entwistle House, in Holyrood Crescent, has been demolished and transferred to housing association bpha.
Bpha has built 40 supported-living homes for rent and shared ownership, mixed throughout the development which has been renamed Eywood House.
Linley Court, in Valley Road, is being turned into 28 properties by Aldwyck Housing Group and renamed Hawkings House.
Picture: Mereden Court.
Councillor contact:
Councillor Jacqui Taylor,
Portfolio Holder for Housing,
Inclusion and Protection
Email: cllr.j.taylor@stalbans.gov.uk
Tel: 07971 906343.
Contact for the media: 
John McJannet,
Principal Communications Officer
Tel: 01727 819533
Email: john.mcjannet@stalbans.gov.uk.
Feedback
Quick links
News releases
Top tasks
Environment and waste
Planning
Contact the Council
Consultations