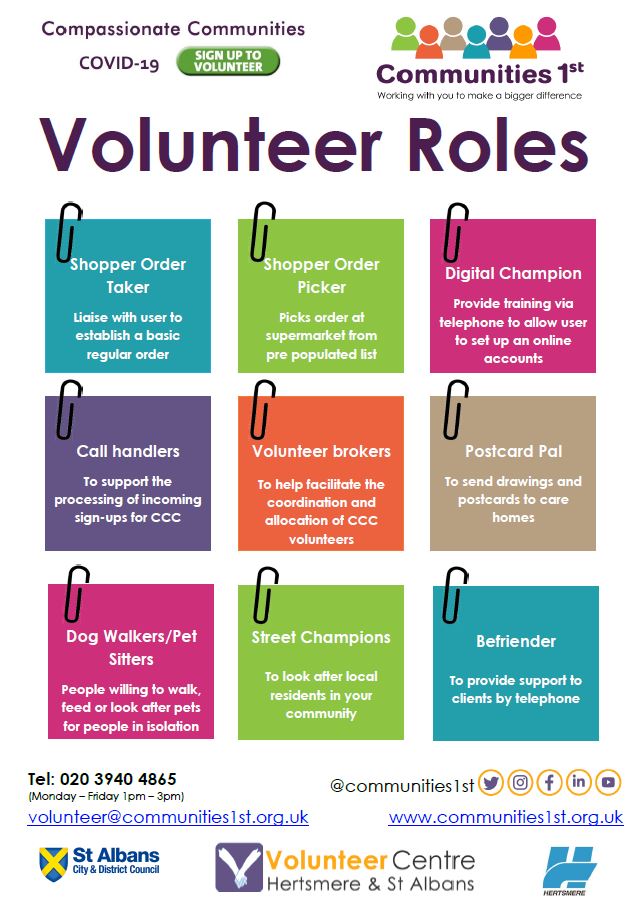 How to help your neighbour during Covid-19 crisis
Residents in St Albans District who want to help others during the Covid-19 Crisis are urged to join a major scheme run by a voluntary agency.
Councillor Chris White, Leader of St Albans City and District Council, has highlighted the project run by Communities 1st, an organisation that supports charities and community groups.
Cllr White, speaking at a meeting of the Council's Cabinet on Thursday 19 March, said:
"It's great to see local communities organising to look after their neighbours. 

"I'm aware, though, that there is a rise in scams with criminals taking advantage of the situation and there are dangers inherent in sharing details about vulnerable people.

"So, I'd really urge people to think carefully about safety.  Our partner, Communities 1st, has a well organised scheme that people can sign up to if they want to volunteer to help."

Communities 1st is looking for volunteers to help handle calls from vulnerable people as well as collect and deliver shopping and provide digital services training.

There will also be a need for dog walkers, postcard pals, telephone friends and street champions who will keep an eye on particular neighbourhoods.

People can enquire about joining the scheme by emailing volunteering@communities1st.org.uk or phoning 020 3940 4865 on weekdays between 1-3pm.

Stephen Craker, Chief Executive of Communities 1st, said: "We are pleased that the Council is supporting our endeavours to organise volunteers effectively during this public health emergency.

"We're anticipating that there will be a huge demand for help across the District from people struggling to get out of their homes because of age, disability or illness.

"By becoming a Compassionate Community Connector, you can be confident that your work will be coordinated and directed towards those in real need.

"People who are being helped by our volunteers will have the assurance that appropriate safeguarding measures are in place."
Cllr White also outlined to the Cabinet the Council's work to support the response to the Covid-19 response.
The Government had made a number of announcements regarding the help they intended to offer businesses including business rates holidays and grants.
Cllr White said:
"We will play our full part in helping to implement those initiatives, for example, those related to business rates and special funding.  We are awaiting further information from government on these matters. 

"There is also special provision related to welfare and benefits.

"We have put links to government information on our website about the latest announcements and we'll be keeping that updated."

He said the Council was a Category One Responder like the Police and Ambulance Service and had an Incident Management Team in place.

"We have responsibility for a number of vital statutory services including those needed to support many of our most vulnerable local people," he added.

He said the Council had cancelled non-essential committee meetings and were looking at safe ways of operating essential ones.

A number of popular local events had been cancelled including the Sustainable St Albans Festival which was due to begin in May and the Mayor's Pride Awards ceremony.

He added: "Lots of local services are still open, including the libraries, parks and green spaces, and St Albans market."
Councillor contact:
Councillor Chris White, Leader and Portfolio Holder for Climate and the Environment for St Albans City and District Council: cllr.c.white@stalbans.gov.uk, 01727 845300.
Contact for the media:
John McJannet, Principal Communications Officer, St Albans City District Council: 01727 819533, john.mcjannet@stalbans.gov.uk.