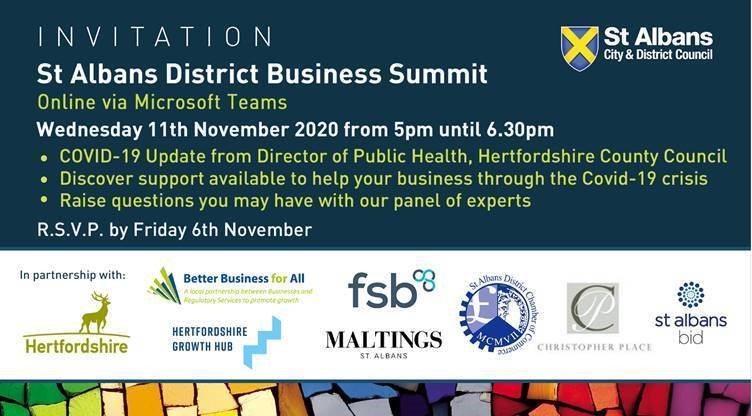 Invitation to attend business summit
Business leaders in St Albans District are urged to attend an online summit where a number of vital issues are to be highlighted and discussed.
St Albans City and District Council is organising the event following a successful inaugural summit last year.
Among the speakers is Jim McManus, Hertfordshire's Director of Public Health, who will be updating the meeting on the local impact of COVID-19. He will also take questions.
Councillor Mandy McNeil, Portfolio Holder for Business, Tourism and Culture, will outline what support the Council is offering during the pandemic.
Alison Berneye, Chair of St Albans BID and St Albans Visitor Partnership, will give an update on actions to showcase the City as online virtual and staycation destinations.
She will also talk about plans to market St Albans internationally as a heritage destination in the aftermath of COVID-19 and how businesses can participate.
There will also be speakers from St Albans District Chamber of Commerce, the Federation of Small Businesses, Hertfordshire County Council and Hertfordshire Growth Hub.
Representatives from the Maltings and Christopher Place shopping centres will give an update on local retail issues.
The summit is on Wednesday 11 November from 5pm to 6.30pm and will take place online via Microsoft Teams.
Anyone involved in local business who wishes to attend can register here: www.stalbans.gov.uk/business-summit-2020.
Councillor Chris White, the Council's Leader and Portfolio Holder for Climate, Environment and Transport, will chair as well as make the opening and closing remarks.
Cllr McNeil said:
I initiated last year's summit and it was such a success that we are now committed to making it an annual event.

This year will be particularly important because top of the agenda, of course, will be the huge challenges facing our businesses from the COVID-19 outbreak.

By attending the summit, businesses will hear about some of the support that has been available to them. They will also get the chance to put questions to our panel of experts including the County's Director of Public Health.

I urge anyone running a local business to consider attending the summit to take advantage of the information briefings and networking opportunities that will arise.
Councillor contact:  
Mandy McNeil, Portfolio Holder for Business, Tourism and Culture: 07584 198999, cllr.m.mcneil@councillor.stalbans.gov.uk
Contact for the media: 
John McJannet,
Principal Communications Officer,
Tel: 01727 819533
Email: john.mcjannet@stalbans.gov.uk.