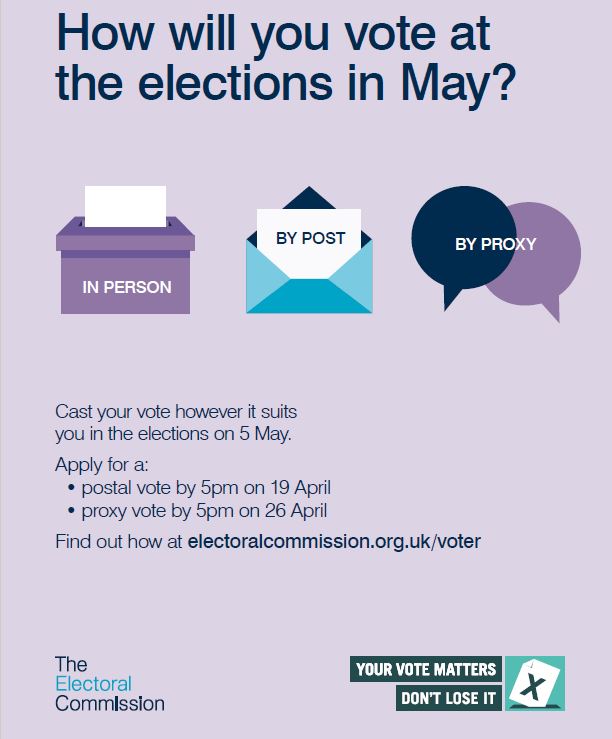 Keep a look out for poll cards – and check the details
Poll cards have been sent to voters in St Albans District for important local elections on Thursday 5 May.
St Albans City and District Council has posted the cards to around 110,000 people who are registered to vote.
Every seat on the Council is up for election following a Local Government Boundary Commission review.
Normally, around a third of Councillors are elected in three out of every four years.
However, an all-out election has been called because of changes to some ward boundaries with a reduction in the number of Councillors from 58 to 56.
Voters are urged to examine their cards carefully to check their ward and the location of their polling stations in case there have been any changes.
They should take their poll cards with them to vote so they can be attended to quickly, although it is not a legal requirement.
Voters can vote for up to three candidates, two or one – depending on how many Councillors represent their ward. There are 17 wards with three Councillors, two with two and one with one.
Winning candidates will serve terms of one, two or four years as the Council returns to electing in "thirds" from next year.
Amanda Foley, Returning Officer for St Albans City and District, said:
We are asking people to look out for their poll cards and to keep them safe this year and also to check them thoroughly.

There are quite a number of changes both to ward boundaries but also to the location of polling stations.

We don't want people turning up to the wrong place to vote, so it is important that they check the details. We also want them to be fully aware of what ward they are voting in, so again, it is vital that they check the details on the poll cards.
Ailsa Irvine, Director of Electoral Administration and Guidance at the Electoral Commission, said:
Polling stations will be open from 7am to 10pm on Thursday 5 May. Voters who have opted to vote by post must return their postal ballot pack by 10pm; they can hand it in at their polling station if they don't have time to return it by post.
The deadline for registering to vote in the elections is midnight on Thursday 14 April, although those who are already registered at their current address do not need to do so again.
It only takes a few minutes to register online by going to  www.gov.uk/register-to-vote.
For those residents who do not wish to register online, a paper copy of the registration form is available. It can be obtained from the local elections team by emailing elections@stalbans.gov.uk or by phoning 01727 819294.
The deadline for postal vote applications is 5pm on Tuesday 19 April and for proxy vote applications it is 5pm on Tuesday 26 April. For emergency proxy applications, the deadline is 5pm on the day of the election.
The deadline for candidate nominations is 4pm on Tuesday 5 April with the verified lists published no later than 4pm the following day.
Information about the elections is provided on the Council's website at: https://www.stalbans.gov.uk/elections-thursday-5-may-2022.
Contact for the media:  John McJannet, Principal Communications Officer: 01727 296130; john.mcjannet@stalbans.gov.uk.