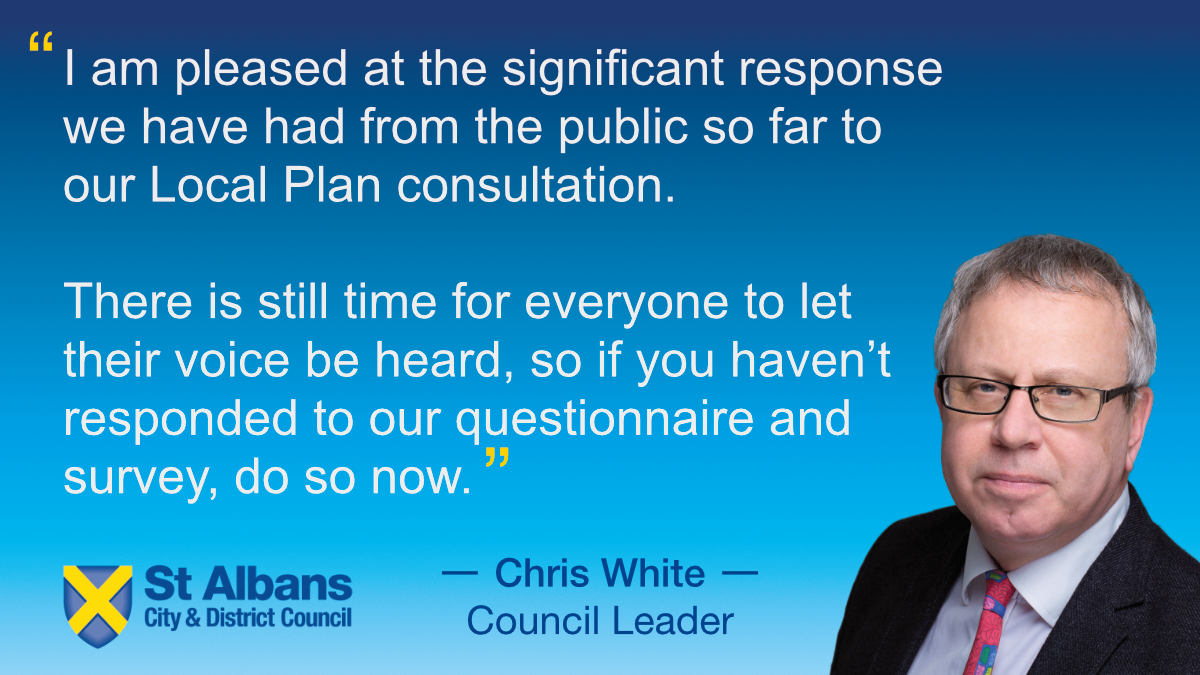 Local Plan consultation – still time to give your views
More than 1,500 people have already viewed a video providing information about the draft Local Plan for St Albans District. 
Several hundred people have also attended information events explaining the Local Plan which identifies land for future development in the years to 2041. 
Residents, community groups and businesses have all been invited to give their views about the proposals during a public consultation. 
There is still time for people to do so with the consultation running until Monday 25 September. 
The video has been viewed 1,300 times on YouTube and seen by many hundreds more on Facebook. 
Council staff have been on hand at the roadshows to explain the Local Plan to residents and answer any questions.  
Attendances have been high at the roadshows held across the District this week at Colney Heath, Redbourn and Bricket Wood.  
Others are being held at Wheathampstead Memorial Hall tomorrow (Thurs 7 Sept) and Leverstock Green Village Hall in neighbouring Dacorum Borough, the following day, both from 2pm to 8pm. 
There are also further roadshows next week in St Albans, Sandridge, Harpenden and London Colney. 
Councillor Chris White, Leader of St Albans City and District Council which has responsibility for producing the Local Plan, said:
I am pleased at the significant response we have had from the public. 

We appealed for everyone to give their views and help shape the future growth of the District and that message has got across. 

This is an evolving document and all the feedback we receive will be taken into account as we make any changes we feel are necessary and desired. 

I particularly want to hear from the younger generations as they are among the people who are going to be most affected by the proposals. 

There is still time for them and everyone else to let their voice be heard, so if you haven't responded to our questionnaire and survey, do so now.
People can view the relevant documents, complete a survey and provide detailed feedback through a questionnaire here: https://www.stalbans.gov.uk/new-local-plan 
The Local Plan is a blueprint for the area's built environment that includes land for future business, infrastructure and housing developments. 
A commitment to tackle the climate emergency is at its heart with new developments required to be sustainable and improve biodiversity. 
Other priorities are the delivery of more social housing, jobs, schools, GP surgeries, public transport, cycle paths, play areas and parks. 
The Local Plan is also designed to grow the economy, providing thousands of high-quality local jobs, and promote equality, inclusion and fairness. 
An update on the consultation will be given to a meeting of the Council's Planning Policy and Climate Committee on Tuesday 12 September. 
Once the consultation is finished, spatial planning officers will analyse the responses and report their findings to the Committee, making recommendations for any changes. 
A further consultation on the draft Local Plan that emerges from this process is due to take place from July to September 2024. 
Following that, the final draft is scheduled to be submitted to a Government-appointed Planning Inspector for examination in December 2024. If approved, it could be adopted by the Council around December 2025. 
Next week's Local Plan exhibitions are at:
St Albans City: The Civic Centre, Monday 11 September, 2pm - 8pm. 

Sandridge: Marshalswick Community Centre, Tuesday 12 September, 2pm - 8pm. 

Harpenden: The Restaurant, Rothamsted Enterprises, Harpenden Wednesday 13 September, 2pm - 8pm. 

London Colney: Caledon Community Centre, London Colney, Thursday 14 September, 2pm - 8pm. 
Copies of the Local Plan are available at the following libraries throughout the consultation period: St Albans; Marshalswick; London Colney Community; Harpenden; Redbourn; Wheathampstead; Hemel Hempstead; Leverstock Green Community; and Radlett. 
Media Contact: John McJannet, Principal Communications Officer, 01727 819533, john.mcjannet@stalbans.gov.uk