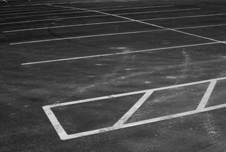 Major equipment upgrade for District's parking facilities, funded by changes to parking charges
Car parks owned by St Albans City and District Council are being revamped to make them more user friendly.  
Details are included in a performance update report to St Albans City and District Council's Cabinet at its meeting on Thursday 24 September. 
Investment – off-street car parks
Twenty state-of-the-art pay machines are being installed at various Council fee paying car parks in the District. The improvements will increase the availability and reliability of parking machines and provide a better service for residents and visitors. In addition, contactless payment options will now be available in addition to the pay-by-phone technology recently rolled out. 
The changes will include a pay-on-exit system at the two largest car parks serving St Albans City centre, Drovers Way and Russell Avenue. 
These two adjoining multi-storey car parks - which hold 888 vehicles – will have new exit and entrance barriers as well as new pay machines. 
The new software captures usage data to help manage the service, monitor performance and continue to improve it.  In addition, in the event of a fault, the real-time pay machine technology will send out immediate alerts to staff so issues can be rectified quickly.
The Council owns 16 car parks in St Albans and Harpenden, many of which are operated by the Council's contractor, NCP, through a contract extended in May 2014. It was agreed at that time the new pay machines and other innovations would be introduced.
Just over £320,000 is being invested in the modernisation programme, following hot on the heels of work that has already taken place. This includes repainting of parts of Drovers Way and Russell Avenue car parks, and the installation of new lighting and signage.  Reduced price season tickets were introduced over the summer.
Contractors are due to install the new equipment during October and November.
Investment – on-street parking
A separate but related piece of work is underway to replace on-street Pay and Display machines at 18 locations across the District.  The machines identified are either obsolete or frequently break down.  These new machines, costing an additional £63,000, are due to be in place by the end of October.
A pilot scheme at three locations in Harpenden will test a pay-by-phone only scheme. This will be introduced at Milton Road, Devonshire Road and Breadcroft Lane where cash transactions are negligible.
Pay and Display machines at Clarence Road, St Albans will be removed  and replaced with free time-limited bays.
Tariff changes
As part of the May 2014 contract agreement, new off-street parking tariffs are coming in from Monday 2 November this year. Over the expected life of the equipment the money raised will pay for  the investment.
Hourly rates from Monday to Saturday will either rise by 10p or, for less than 1 hour stays, remain unchanged, with the all-day rates rising by 20p.  Weekly rates will rise by 70p. Season ticket prices remain unchanged. The Sunday all-day rate is to remain at £1 across the District.
A review of the current on-street tariff is also underway. The aim is to encourage motorists to use car parks rather than kerb space in order to reduce congestion. On-street fees were last increased about four and a half years ago in April 2011.
Councillor Beric Read, Portfolio Holder for Community Engagement and Localism for St Albans City and District Council, said: "We are making these major improvements to our car parks in an effort to transform the experience of car users. This fits in with our policies to improve service for residents and enhance the visitor experience.
"NCP is also making changes to some of the parking fees which will help to pay for the investment being made in the District's car parks.
"Our policy is to run the car parks as a service to the public, rather than as a fund raiser. We expect the investment will increase occupancy and therefore income in our car parks. This will, in turn, help keep prices down in the future."
Cabinet meeting
The webcast of Cabinet on Thursday 24 September has now been archived. Should you wish to view it please contact Elizabeth Heath on 01727 819519 or email: Elizabeth.Heath@stalbans.gov.uk  Papers for the meeting, including the performance update report on car parking can be found on our website.
Councillor contact:
Cllr Beric Read, Portfolio Holder for Community Engagement and Localism for St Albans City and District Council. Tel: 07956 220264
Contact for the media:
John McJannet, Principal Communications Officer, St Albans City District Council. E-mail: john.mcjannet@stalbans.gov.uk; Tel: 01727 296130. 
Notes:
See also:  
Press release 20 March 2015 Reduction in fees for Council's multi-site NCP parking permit holders (link content no longer available due to retirement of former website) 
Press release 18 June 2015 PayByPhone service extended to more District Council car parks (link content no longer available due to retirement of former website) 
Parking tariff changes (from 2nd November 2015)
NCP Managed Car Parks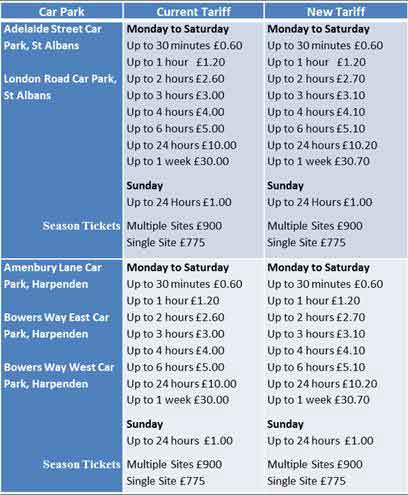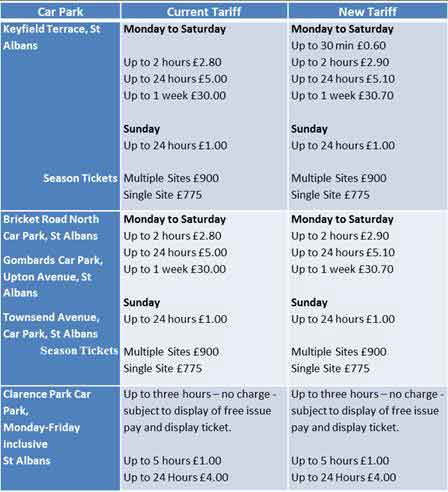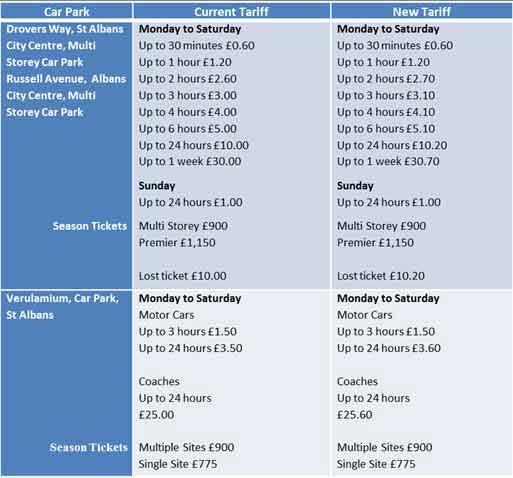 Council Managed Car Parks