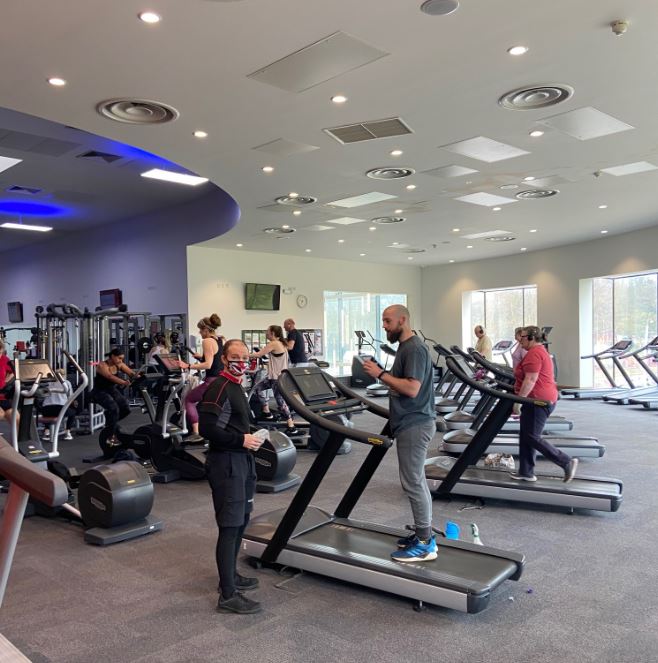 Major Leisure Centres in St Albans District reopen
Thousands of people have already visited four major leisure centres in St Albans District that have reopened following the national COVID-19 lockdown.
St Albans City and District Council owns the facilities which are managed on its behalf by specialist contractors.
Among the group is Harpenden Leisure Centre which has been rebuilt and enhanced as part of a £20 million development. More than 3,600 visits were made in the first week.
The new centre, on the edge of Rothamsted Park, has a 25-metre-long swimming pool, a learner pool, a state-of-the-art gym, a spin room and sports hall,
There is also a cafe and a changing village.  Two exercise studios, a sauna and steam room are due to open next month when there is a further easing of COVID restrictions.
The Harpenden centre is managed by 1Life as is Batchwood, St Albans, and Cotlandswick, London Colney.
Westminster Lodge, also St Albans, is run by Everyone Active and has been attracting 500 gym users a day since the reopening on Monday 12 April along with more than 1,000 swimmers in total.
Measures have been taken throughout all four centres to make sure they are COVID-secure and social distancing can be maintained.
These include extra cleaning, one-way systems and the provision of free hand sanitiser.
Members and visitors are required to wear facemask when possible as well as pre-book activities online to avoid queues at reception and face-to-face contact with staff.
Tony Marmo, the Council's Head of Commercial and Development, said:
We have had a terrific response to the reopening of our leisure centres with an impressive number of people returning to them or going for the first time.

Many people have taken up exercise such as running during the lockdowns and our leisure centres provide them with a great opportunity to further improve their fitness and enjoy new activities.

A lot of hard work has gone on behind the scenes by our contractors during the lockdown to create a safe environment for all centre users.

It is particularly pleasing that the new Harpenden Leisure Centre has now opened after its launch on the first Monday of 2021 had to be postponed because of the third lockdown.

The number of visitors has exceeded our expectations with the new gym and the children's swim school being the most popular activities.

This centre will serve residents from right across Harpenden, Redbourn, Wheathampstead and surrounding villages and will be a great asset to the community with a new Cultural Centre due to open nearby later this year.
More information about facilities and activities at the leisure centres are available at their dedicated websites:
Harpenden: https://www.1life.co.uk/Harpenden-Leisure-centre/;
Batchwood: https://www.1life.co.uk/Batchwood-Golf-Course-and-Sports-Centre/.
Cotlandswick: https://www.1life.co.uk/cotlandswick-leisure-centre/
Westminster Lodge: https://www.everyoneactive.com/centre/westminster-lodge-leisure-centre/.
Picture: the Westminster Lodge gym back in action.
Contact for the media:
John McJannet, Principal Communications Officer: 01727-819533;  john.mcjannet@stalbans.gov.uk.